Zeeshan Butt Named Director of Outcomes Measurement and Survey Core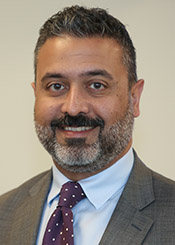 Zeeshan Butt, PhD
, has been named director of the Lurie Cancer Center's
Outcomes Measurement and Survey Core
(OMSC).
The mission of this core facility is to provide consultation and support for research that involves collecting, analyzing or interpreting patient-reported outcome (PRO) data in culturally diverse populations. The OMSC provides expertise on the best ways to measure outcomes derived by self-report, serves as a central resource for state-of-the-science instruments and measurement methods, and offers in-house support services for the translation, collection and analysis of outcomes and survey data.
In his role as director, Butt is responsible for providing one-on-one consultation to Lurie Cancer Center faculty and labs interested in incorporating patient-reported outcomes into their clinical research and trials. That initial consultation allows him to identify other resources within the OMSC that will help to include the patient's voice as part of grants proposals in development or in ongoing research.
A licensed clinical psychologist, Butt is an associate professor in the Departments of Medical Social Sciences, Surgery (Division of Organ Transplantation), and Psychiatry & Behavioral Sciences. In addition, as associate director of the Center for Patient-Centered Outcomes within the Institute for Public Health and Medicine, he provides mentorship and guidance to faculty interested in patient-driven research.
Butt's research focuses on the development and application of PROs in the post-surgical context, with an eye toward improved care quality. He replaces Elizabeth Hahn, associate professor of Medical Social Sciences and Preventive Medicine at Northwestern University Feinberg School of Medicine. "We are very pleased that Zee will assume leadership of this important shared resource that brings unique insights into our clinical trials," said Milan Mrksich, PhD, associate director for Shared Resources at the Lurie Cancer Center and the Henry Wade Rogers Professor of Biomedical Engineering, Chemistry and Cell and Molecular Biology. "We extend our thanks and appreciation to Beth for her dedicated service."