David Cella Named ASCO Fellow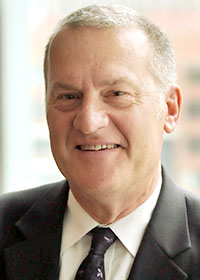 David Cella, PhD, Associate Director for Cancer Prevention and Control Research at the Lurie Cancer Center, will be named a Fellow of the American Society of Clinical Oncology (FASCO). He will be recognized for his extraordinary volunteer service, dedication and commitment to ASCO and the patients they serve during ASCO's 2019 Annual Meeting to be held May 31 – June 4 in Chicago.
A pioneer in the field of patient-reported outcome measures, Cella is the Ralph Seal Paffenbarger Professor, Chair of the Department of Medical Social Sciences and Director of the Institute for Public Health and Medicine's Center for Patient-Centered Outcomes at Northwestern University Feinberg School of Medicine.
Throughout his career, Cella has focused his research efforts on understanding the perspective of the patient to improve quality of life and ensure that the voice of the patient is reflected in clinical care.