Dr. Hau Kwaan Honored for 50 Years of Service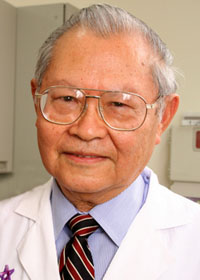 Hau Kwaan, MD, PhD, the Marjorie C. Barnett Professor, professor of Hematology and Oncology and hematology specialist at the Northwestern Medicine Center for Bleeding and Clotting Discorders, will be recognized for more than 50 years of service at an Awards Ceremony and Reception on Thursday, June 27 at the Northwestern Memorial Hospital Medical Staff Meeting. 
Dr. Kwaan joined the faculty of Northwestern University Medical School in the fall of 1966. Since then, he has made major contributions to the understanding and treatment of thrombosis and bleeding disorders.
His research focus includes the role of hemostatic dysfunction in patients with acute promyelocytic leukemia and myeloproliferative neoplasms. The author of nearly 400 scientific articles and editor of three books, Dr. Kwaan is a member of many prestigious scientific societies and was a founding member of the International Society of Thrombosis and Hemostasis. 
After earning his doctorate and medical degree at the University of Hong Kong in the 1950s, Dr. Kwaan studied at the University of Edinburgh in Scotland and at the University of London before being named a China Medical Board of New York Research Fellow at Columbia University College of Physicians and Surgeons. 
Because immigration laws prevented him from staying in America, it took a private bill signed by President John F. Kennedy in January 1962 to allow Dr. Kwaan and his family to live here permanently. They became naturalized citizens in 1969. To this day, the bill hangs alongside his degrees, adjacent to a family photo and his endowed professor medallion.