Adam Lin to Receive ASH Research Training Award for Fellows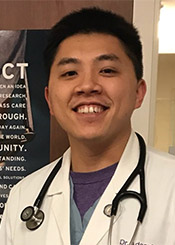 Adam LIn, MD, PhD
Lurie Cancer Center is pleased to announce that Adam Lin, MD, PhD, has been selected by the American Society of Hematology (ASH), as one of 16 outstanding fellows in the U.S. to receive the 2019 ASH Research Training Award for Fellows (RTAF), a year-long program that aims to encourage careers in academic hematology by providing protected research time during training.
Lin's primary research interest is in using nanotechnology platforms to treat blood cancers.  The ASH RTAF award will support his research project using an immunotherapy gold nanoparticle complex he designed to treat lymphoma.  
 "This prestigious award from ASH, given to only a handful of young investigators, will allow Adam to carry out his paradigm-shifting work in diffuse large B-cell lymphoma (DLBCL), the most common non-Hodgkin lymphoma. Working with our research group, including C. Shad Thaxton, MD, PhD, Reem Karmali, MD, and Jonathan Rink, PhD, he has developed a novel approach to alter the immune microenvironment using gold nanoparticles linked to immune stimulants" said Leo I.Gordon, MD, the Abby and John Friend Professor of Cancer Research and Director of Lurie Cancer Center's Lymphoma Program.
"This work will allow the immune system to inhibit lymphoma growth and, hopefully, lead to improved outcomes for patients with this aggressive form of lymphoma. Adam's work in this area is innovative, exciting and potentially groundbreaking." 
"I am very honored to receive this award," said Lin, a third-year fellow in the Hematology/Oncology Fellowship Program and part of the Physician-Scientist Training Program at Feinberg. "With the support of ASH, along with Dr. Gordon's amazing mentorship, I hope to use my engineering expertise and clinical training to bring these novel nanoparticle-based lymphoma therapies to clinical trials"
The American Society of Hematology is the world's largest professional society of hematologists dedicated to furthering the understanding, diagnosis, treatment, and prevention of disorders affecting the blood. For 60 years, the Society has led the development of hematology as a discipline by promoting research, patient care, education, training, and advocacy in hematology.