Barbara Pro, MD, Named Clinical Director of Lymphoma Program at Lurie Cancer Center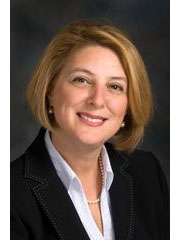 Barbara Pro, MD, a leader in the research and treatment of lymphomas, has been named Clinical Director of the Lymphoma Program at the Robert H. Lurie Comprehensive Cancer Center of Northwestern University. Pro is Professor of Medicine in the Division of Hematology and Oncology, and also serves as Director of the Hematology and Oncology Fellowship Program.
A distinguished scholar and medical oncologist, Pro is widely recognized for her expertise in drug development and clinical trials for Hodgkin and non-Hodgkin lymphomas (specializing in T-cell lymphoma). Her clinical focus is on improving treatment options for patients with lymphoma at Northwestern Memorial Hospital.
Pro's research focus on clinical trials for the application of targeted therapeutic agents is helping to improve outcomes for patients with aggressive lymphoma subtypes. Her work has led to FDA approval of several novel agents, including pralatrexate, romidepsin, and brentuximab vedotin.
Pro replaces outgoing program director, Leo Gordon, MD, who led the Lymphoma Program for more than 20 years. Gordon, the Abby and John Friend Professor of Oncology Research, will continue as Co-Leader of Lurie Cancer Center's Hematologic Malignancies Program and will maintain his focus on providing innovative treatment approaches for our patients. "Our lymphoma team is exceptionally strong," said Leonidas Platanias, MD, PhD, Director of the Lurie Cancer Center. "I look forward to working with Barbara in her new role."
"Northwestern Medicine is fortunate to have such a distinguished team of lymphoma specialists under Barbara's leadership. The scope of novel clinical trial options available to our patients with this family of diseases is second to none," said William Gradishar, MD, Chief of Hematology and Oncology in the Department of Medicine.
Pro joined Northwestern in 2015 from Thomas Jefferson University and Hospitals in Philadelphia, where she was Professor of Medical Oncology, as well as Chief of the Lymphoma Section and Director of the Multidisciplinary Cutaneous Lymphoma Clinic. She has received numerous professional awards and is an active member of several professional organizations, including the American Society of Clinical Oncology, the American Society of Hematology, and the Lymphoma Research Foundation's Scientific Advisory Board.