Sheetal Kircher, MD, Named ASCO Advocacy Champion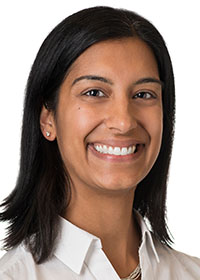 Sheetal Kircher, MD, Medical Director of the Cancer Survivorship Institute of the Robert H. Lurie Comprehensive Cancer Center of Northwestern University, was named an Advocacy Champion by the Association for Clinical Oncology (ASCO) during the association's 2020 Advocacy Summit on September 16. Dr. Kircher is an associate professor of Medicine in the Division of Hematology and Oncology at Northwestern University Feinberg School of Medicine and a medical oncologist specializing in the treatment of gastrointestinal cancers at Northwestern Memorial Hospital. Her research interests are related to improving the quality of cancer care and better understanding the trends in use and expenditure of services and drugs. She is also interested in the evaluation of cancer-related health policies.
Advocacy Champions are ASCO volunteers who have made meaningful contributions throughout the year to ASCO's advocacy activities to ensure that every patient with cancer has access to high-quality, high-value cancer care, no matter who they are or where they live. Advocates speak with federal lawmakers and agencies, send personalized letters to Members of Congress through ASCO's ACT Network, engage with state lawmakers on policy priorities at the state-level, and host site visits for lawmakers in their home states and districts.
Having focused on clinical research early in her career, Kircher first became interested in health policy when she became an attending physician. "It wasn't until I started working with patients and seeing them struggle with the cost of their cancer therapy that I became knowledgeable about the policy aspect of cancer care," she said. As one of the two Health Policy Fellows selected by ASCO for 2018-2019, Kircher had an opportunity to collaborate with policy makers to shape cancer policy on all levels. "Part of delivering high-quality care is understanding the changing health care environment and the impact of cost -- on us as an institution and on our patients from a personal level," she adds.
"Sheetal is actively involved in our efforts to improve the quality of cancer care across Northwestern Medicine," said Leonidas Platanias, MD, PhD, director of the Lurie Cancer Center. "Her role as an ASCO Advocacy Champion will provide new opportunities to expand her impact on the lives of people facing cancer."
"Congratulations to this year's Advocacy Champions. Their continued efforts to educate Congress on the promise and challenges of providing high-quality cancer care are important during the best of times, and they become absolutely critical during a global pandemic," said ASCO Government Relations Committee Chair Carolyn Hendricks, MD, FASCO. "Through the unwavering commitment of these dedicated advocates, we can continue our work to advance policies that will improve access to high-quality, equitable care for people with cancer."