Adam Lin Selected by ASH for 2020 Clinical Research Training Institute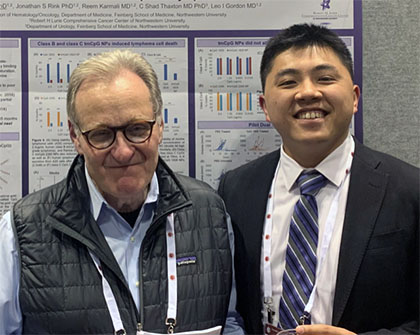 Adam Lin, MD, PhD, and his mentor, Leo Gordon, MD
Lurie Cancer Center is pleased to announce that Adam Lin, MD, PhD, has been selected by the American Society of Hematology (ASH) to participate in the 2020 ASH Clinical Research Training Institute (CRTI).
The CRTI is a year-long program that offers a broad education on clinical research methods, research collaborations, statistical analysis, and managing the demands of family and career. The goal of the program is to produce leaders armed with ideas for clinical hematology research and the tools and resources to make their ideas a reality.
Lin's areas of interest include lymphoma, cellular therapy, and hematopoietic stem cell transplant. His research is focused on bridging nanotechnology platforms to improve or create new therapies for hematologic malignancies.
"I believe that my unique background in nanotechnology, biomaterials, and, most importantly, clinical medicine allows me to think outside the box and analyze problems from a different angle. My training allows me to bridge the gap between technological advancements and their use in clinical or personalized medicine. The proposed project in this application requires experience in both nanotechnology and clinical oncology, which I am excited to explore," said Lin, a fellow in the Hematology/Oncology Fellowship Program and part of the Physician-Scientist Training Program at Feinberg. "I would like to thank my mentor, Leo I. Gordon, MD, and my collaborators Reem Karmali, MD, C. Shad Thaxton, MD, PhD, and Masha Kocherginsky, PhD."
"Participants emerge from CRTI with the knowledge and connections to support them in their paths toward becoming independent patient-oriented clinical investigators," said 2020 ASH President Stephanie Lee, MD, MPH of Fred Hutchinson Cancer Research Center. "We congratulate this year's participants and look forward to watching their careers unfold."
The American Society of Hematology is the world's largest professional society of hematologists dedicated to furthering the understanding, diagnosis, treatment, and prevention of disorders affecting the blood. For 60 years, the Society has led the development of hematology as a discipline by promoting research, patient care, education, training, and advocacy in hematology.