Robotic Lung Cancer Screening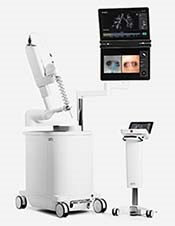 Northwestern Medicine is the first pulmonary program in Illinois to offer a new, robotic-assisted bronchoscopy platform that diagnoses lung cancer sooner and with greater accuracy. This unique lung biopsy method is currently offered at the Lurie Cancer Center at Northwestern Memorial Hospital.
This state-of-the-art lung cancer screening platform called Ion, uses an ultra-thin, highly maneuverable robotic catheter to access parts of the lung previously unreachable by standard biopsy — even nodules outside airways. More reach means more accuracy and a faster diagnosis, which means earlier intervention and treatment.
For more information or to see if you qualify for ION screening and diagnosis please call 312.695.3800.
If you have been diagnosed with lung cancer and are interested in learning more about treatment, please call the Lurie Cancer Center at 312.695.0990.