Principal Investigator, Prostate Cancer SPORE - Sarki A. Abdulkadir, MD, PhD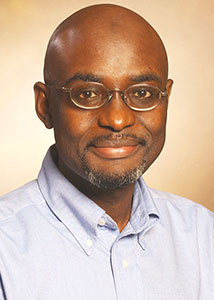 Sarki A. Abdulkadir, MD, PhD, is the John T. Grayhack, MD, Professor of Urological Research and vice chair for research, and a Principal Investigator of Lurie Cancer Center's Specialized Program of Research Excellence (SPORE) in Prostate Cancer. His research program is focused on understanding the molecular mechanisms that drive prostate cancer initiation, progression and recurrence with the ultimate goal of developing therapies that target these processes.
Dr. Abdulkadir received combined undergraduate and medical degrees from Ahmadu Bello University in Nigeria in 1990. After a year of medical internship, he moved to the Johns Hopkins University in Baltimore as a Howard Hughes Medical Institute Predoctoral Fellow, receiving a PhD in Immunology in 1995. He subsequently completed a residency in clinical pathology integrated with a postdoctoral research fellowship in prostate cancer at Washington University School of Medicine in St. Louis, Missouri.