Associate Director of Translational Research – Sarki A. Abdulkadir, MD, PhD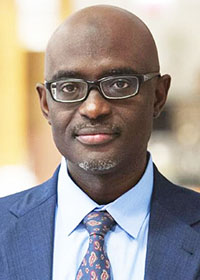 The Associate Director for Translational Research at the Lurie Cancer Center is appointed by and reports to the director of the Lurie Cancer Center. 1. In this role, Sarki A. Abdulkadir, MD, PhD, oversees the development and coordination of translational science across the cancer center and drives initiatives to move promising new therapies from the laboratory to the clinic.
Dr. Abdulkadir is the John T. Grayhack, MD, Professor of Urological Research and co-principal investigator of the Lurie Cancer Center SPORE (Specialized Program of Research Excellence) in Prostate Cancer, where he leads efforts to advance collaborative translational research projects and clinical trials. Dr. Abdulkadir's research program is focused on understanding the molecular mechanisms that drive prostate cancer initiation, progression and recurrence, with the goal of developing therapies that target these processes.