Co-Director of Global Health - Sarki A. Abdulkadir, MD, PhD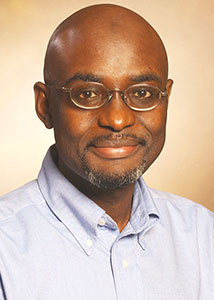 Sarki A. Abdulkadir, MD, PhD, is the John T. Grayhack, MD, Professor of Urological Research at the Feinberg School of Medicine and a member of the Lurie Cancer Center.
The co-director of Global Health provides leadership in coordinating and expanding global alliances and partnerships of the Lurie Cancer Center and facilitates the global research efforts of its members. In coordination with Northwestern Medicine's International Patient Services Department, this strategic position expands referring physician relationships from overseas as well as patient referrals. Abdulkadir serves on the International Committee for the National Comprehensive Cancer Network and participates in the health initiatives of Chicago Sister Cities International.
Abdulkadir received combined undergraduate and medical degrees from Ahmadu Bello University in Nigeria in 1990. After a year of medical internship, he moved to the Johns Hopkins University in Baltimore as a Howard Hughes Medical Institute Predoctoral Fellow, receiving a PhD in Immunology in 1995. He subsequently completed a residency in clinical pathology integrated with a postdoctoral research fellowship in prostate cancer at Washington University School of Medicine in St. Louis, Missouri.
Back to top