Associate Director, Engineering and Technology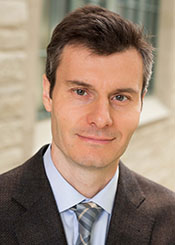 The associate director for Engineering and Technology is appointed by and reports to the director of the Lurie Cancer Center. In this newly created position, Vadim Backman, PhD, will develop programs linking innovative engineering technologies with cancer research. This initiative to accelerate engineering-driven clinical translational efforts is among the top priorities of the Lurie Cancer Center.
Backman is the Sachs Family Professor of Biomedical Engineering and Medicine at the McCormick School of Engineering and Applied Sciences, Professor of Medicine (Hematology and Oncology) and Biochemistry and Molecular Genetics at Feinberg, and Leader of the Cancer and Physical Sciences Program at the Lurie Cancer Center.
Dr. Backman's research at the convergence of physical and biological sciences focuses on elucidating the function of the human genome and its dysregulation in disease, enabled by the development of new nanoscale imaging and computational technologies that lead to novel methods for regulation of global patterns of gene expression and their clinical translation for disease diagnostics and therapeutics. His research spans from basic science to technology development to multi-center clinical trials. Backman, who also leads Northwestern's Center for Physical Genomics and Engineering, is advancing an entirely new field using breakthrough optical imaging and computational genomics to reprogram the genome's chromatin, which regulates gene expression.
Backman received his PhD in Engineering and Medical Physics from Harvard University and Massachusetts Institute of Technology (MIT). His numerous awards include being selected as one of the top 100 young innovators in the world by MIT Technology Review Magazine and the Cozzarelli Prize from the National Academy of Sciences. Backman has published more than 230 papers in peer-reviewed journals including Nature, Nature Medicine, PNAS, and Physical Review Letters, and holds over 20 patents.