Associate Director, Research Technology and Infrastructure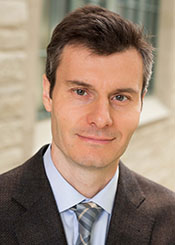 The associate director for Research Technology and Infrastructure is appointed by and reports to the director of the Lurie Cancer Center. In this role, Vadim Backman, PhD, oversees the infrastructure for interdisciplinary programs and initiatives, which include the 15 Shared Resources that foster basic, clinical and translational research at the Lurie Cancer Center.
Backman is the Walter Dill Scott Professor of Biomedical Engineering at the McCormick School of Engineering and Applied Sciences, and leader of the Lurie Cancer Center's Cancer and Physical Sciences (CAPS) Program.
As associate director, he assesses existing needs and priorities, and facilitates the development of new shared facilities to support the research initiatives of Lurie Cancer Center investigators. In addition, he leads the development of innovative tools, technologies and services to support emerging disciplines across the cancer center.
An internationally-renowned expert in biomedical optics, Backman has developed numerous novel imaging technologies. Through his nanocytology technique, he developed a simple, easy-to-use test for diagnosing multiple forms of cancer at the earliest stage of disease formation.
Backman, who also leads Northwestern's new Center for Physical Genomics and Engineering, is advancing an entirely new field using breakthrough optical imaging and computational genomics to reprogram the genome's chromatin, which regulates gene expression.
Backman received his PhD in Engineering and Medical Physics from Harvard University and Massachusetts Institute of Technology (MIT). His numerous awards include being selected as one of the top 100 young innovators in the world by MIT Technology Review Magazine and the Cozzarelli Prize from the National Academy of Sciences. Backman has published more than 225 papers in peer-reviewed journals including Nature, Nature Medicine, PNAS, and Physical Review Letters, and holds over 20 patents.