Associate Director of Clinical Operations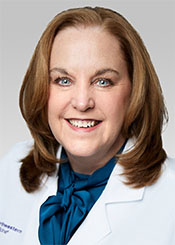 The associate director of Clinical Operations is appointed by and reports to the director of the Lurie Cancer Center. In this role, Mary Mulcahy, MD, is responsible for Lurie Cancer Center's expanding medical oncology clinical operations and infusion services. She works closely with Jeffrey Wayne, MD, who also serves as Associate Director for Clinical Operations.
Mulcahy is a professor of Medicine in the Division of Hematology and Oncology, Radiology, and Surgery in the Division of Organ Transplantation. Her research is focused on multimodality therapies for gastrointestinal cancers.
She is a member of several professional societies, and serves on the National Comprehensive Cancer Network's (NCCN) Esophageal / Gastric Cancers and Colon / Rectal / Anal Cancers Guidelines Panels. Mulcahy was the recipient of the 2021 Nora Cooney Marra Compassionate Care Award from The Woman's Board of Northwestern Memorial Hospital.