Director - Leonidas Platanias, MD, PhD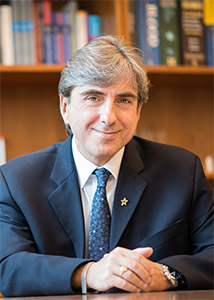 Leonidas C. Platanias, MD, PhD, is Director of the Robert H. Lurie Comprehensive Cancer Center of Northwestern University and the Jesse, Sara, Andrew, Abigail, Benjamin and Elizabeth Lurie Professor of Oncology in the Departments of Medicine and Biochemistry and Molecular Genetics. He also serves as associate vice president for Cancer Programs in Northwestern's Office for Research. Prior to his appointment as Director in 2014, Dr. Platanias served as the cancer center's first Deputy Director from 2002 to 2013.
He earned his medical degree and PhD from the University of Patras Medical School in Greece, and began his research career at the National Institutes of Health in Bethesda, MD. He completed a residency in internal medicine at the State University of New York, Downstate Medical Center, and a fellowship in hematology-oncology at the University of Chicago Hospitals.
Dr. Platanias's research focuses on cytokine signaling pathways in malignant cells and developing therapies that that target those pathways. He has published more than 370 papers, and his work has been continuously funded by the NCI for almost 30 years. He is the recipient of R01, U54, T32, and P30 awards from the NCI, and VA I01 Merit Review support.
Among his many career honors, Dr. Platanias received the Seymour and Vivian Milstein Award for Excellence in Inteferon and Cytokine Research. A member of various scientific societies, he served as President of the International Society of Interferon and Cytokine Research and in other national leadership positions. He is an associate editor and editorial board member for several scientific journals, serves on the NCI's Subcommittee A for Cancer Centers, and has been a chair or member of many review panels, study sections, and site visit teams for the NIH, Department of Veterans Affairs, and the Department of Defense.
Since Dr. Platanias became Director in 2014, the Lurie Cancer Center has experienced dynamic growth in NCI funding, publications, and the number of patients enrolled in early-phase clinical trials, as well as the recruitment of more than 140 new faculty members. Under his leadership, the Lurie Cancer Center received the highest rating in its history from the NCI, an overall exceptional with a near-perfect impact score of 12, on the competitive renewal of its Cancer Center Support Grant in 2018.
Dr. Platanias has been a member of the Association of American Cancer Institutes' (AACI) Board of Directors since 2018. He co-chairs the AACI's Conflict of Interest Task Force and has served on the association's Annual Meeting program committee. Dr. Platanias is also an elected member of the Association of American Physicians.