Associate Director, Diversity, Equity and Inclusion – Patricia A. Robinson, MD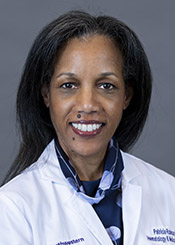 The Associate Director for Diversity, Equity and Inclusion is appointed by and reports to the director of the Lurie Cancer Center. In this role, Patricia Robinson, MD, leads efforts to enhance the diversity of the research workforce, promote career-enhancing research and mentorship opportunities for early and mid-career researchers from diverse backgrounds, and foster an equitable and inclusive environment throughout Lurie Cancer Center.
A medical oncologist specializing in breast cancer, Dr. Robinson is an Associate Professor of Medicine in the Division of Hematology and Oncology. Her clinical interests include the impact of metabolic syndrome on breast cancer outcomes, disparities in cancer treatment outcomes, health literacy, and participation in clinical trials.