Associate Director, Community Outreach and Engagement – Melissa Simon, MD, MPH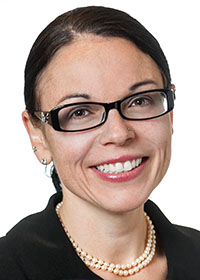 The Lurie Cancer Center has a long-standing history of commitment to advocacy, education, outreach and engagement. The associate director of Community Outreach and Engagement leads our initiatives to identify and address cancer disparities across Chicago and beyond, working together with our community partners and expanding networks.
A physician-scientist and activist, Melissa Simon, MD, MPH, is the George H. Gardner, MD, Professor of Clinical Gynecology. A primary focus of her work to promote cancer health equity is creating health interventions that reduce and eliminate these disparities using community-based participatory action approaches to research, training and education.
Simon is also vice chair for clinical research in the Department of Obstetrics and Gynecology, founding director of the Center for Health Equity Transformation (CHET) and co-founder of the Chicago Cancer Health Equity Collaborative (ChicagoCHEC), a National Cancer Institute-funded partnership between investigators from the Lurie Cancer Center and other Chicago-area universities and community organizations that aims to improve cancer disparities across the city.