Lurie Cancer Center Learning Series
Cancer Connections
Our next Cancer Connections event will take place on Saturday, November 3. Join us for presentations designed to inspire and educate. A light breakfast will be provided. Advance registration is appreciated. Walk-ins are welcome.
Register now for Saturday, November 3
Event Details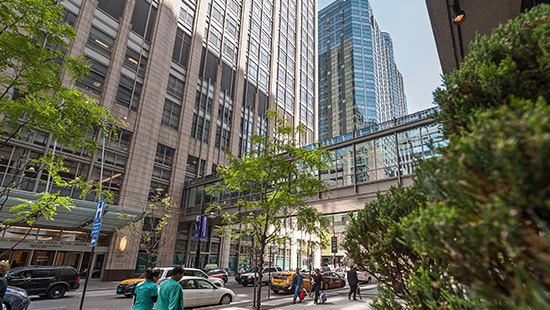 View a Google Map of the event location »
Saturday, November 3, 2018
Registration: 9:00 a.m. - 9:30 a.m.
Program: 9:30 a.m. - 12:30 p.m.
Northwestern Memorial Hospital - Feinberg Pavilion
251 E. Huron St., Chicago
Third Floor, Conference Room A
There is a $10 registration fee, which includes breakfast. Discounted parking will be available for this event at Northwestern Memorial Hospital's Huron/Superior Garage, 222 E. Huron St., one block away (Google map). Parking passes can be purchased for $7 at event check-in.
Support for this event is provided by the Cancer Survivorship Institute
Agenda
9:00 a.m.
Registration & Breakfast
9:30 a.m.
Life After a Cancer Diagnosis: Surviving the Aftermath
Sheetal Kircher, MD
Lurie Cancer Center
10:15 a.m.
Stress Management: Finding the Middle Ground Between Negative Nancy and Pollyanna
Judy Moskowitz, PhD, MPH & Liz Addington, PhD
Northwestern Medicine
11:00 a.m.
Finding Inspiration: A Patient Story
Steven Daniel
11:15 a.m.
Who Will Speak for Me? A Voice in Your Future: Your Health, Your Decision
Jane Light & Cindy Bordelon, JD
Northwestern Medicine
11:45 a.m.
Nutrition: Debunking Cancer Diet Myths
Roxanna Lopez, RD, LDN
Lurie Cancer Center
About Cancer Connections
Learn, Connect & Renew
Cancer Connections offers wellness-focused breakfast seminars a few times a year, geared toward patients and caregivers. They can help you:
Learn simple strategies to eat well, move more and manage stress and fatigue
Connect with fellow survivors, support programs and other communities facing similar challenges
Renew your sense of well-being with massage, acupuncture, meditation, healing touch and other integrative therapies
Back to top