Lurie Cancer Center Learning Series
Cancer Connections
At the Lurie Cancer Center, your treatment plan includes care for the mind, body and spirit. Cancer Connections is just what the doctor ordered, introducing tools, techniques and services you can use to reenergize during and after treatment. Patients and caregivers are invited to attend and learn from cancer experts, network with other patients and caregivers, and find local and national support resources available to both patients and caregivers.
Register now for Saturday, April 18
Event Details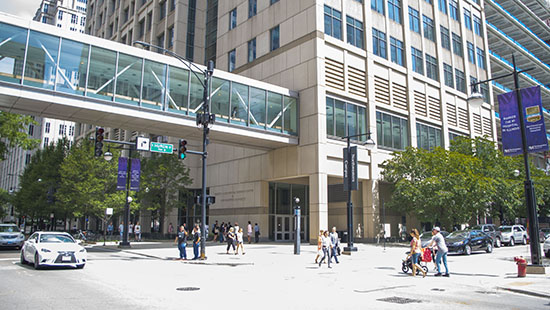 View a Google Map of the event location »
Saturday, April 18, 2020
Registration: 9:00 a.m. - 9:30 a.m.
Program: 9:30 a.m. - 12:30 p.m.
Robert H. Lurie Medical Research Center
303 E. Superior St., Chicago
1st Floor, Baldwin Auditorium
There is a $10 registration fee, which includes breakfast. Discounted parking will be available for this event at Northwestern Memorial Hospital's Huron/Superior Garage, 222 E. Huron St., one block away (Google map). Parking passes can be purchased for $7 at event check-in.
Advance registration is appreciated. Walk-ins are welcome.
Support for this event is provided by the Cancer Survivorship Institute
Agenda
9:00 a.m.
Registration & Breakfast
9:30 a.m.
Taking Care of Yourself Allows You to Take Care of Others
Candy Domke-Hochberg, LMT, BCTMB
Osher Center for Integrated Medicine
10:00 a.m.
What to Expect When You're Expecting (Cancer Treatment)
Celia Gallo, APN, CNP
Alexis Volpentesta, RN, BSN, EC
Desiree West, RCN-BSN
Lurie Cancer Center
10:45 a.m.
Skin Health: Common Dermatologic Issues in Cancer Patients and Survivors and How to Deal with Them
Jennifer Choi, MD
Lurie Cancer Center
11:15 a.m.
Providing Comprehensive Care: Palliative Care in Oncology
Melanie Smith, MD
Lurie Cancer Center
11:45 a.m.
Yoga Practice to Take Care of the Physical and Mental Bodies
Era Pawlowski
Gilda's Club
About Cancer Connections
Learn, Connect & Renew
Cancer Connections offers wellness-focused breakfast seminars a few times a year, geared toward patients and caregivers. They can help you:
Learn simple strategies to eat well, move more and manage stress and fatigue
Connect with fellow survivors, support programs and other communities facing similar challenges
Renew your sense of well-being with massage, acupuncture, meditation, healing touch and other integrative therapies
Back to top