Campaign for the Future
Exceptional Leaders in the Fight Against Cancer
DONATE NOW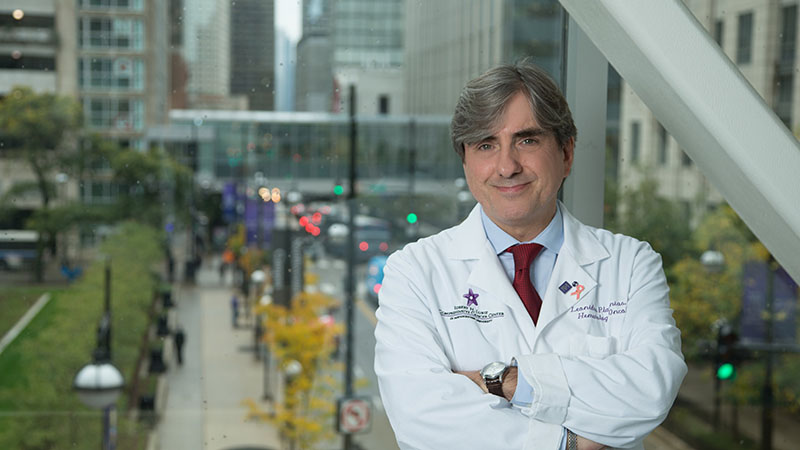 Dear Friends:
During these extraordinary times in our world, we need exceptional people to lead the way. At the Robert H. Lurie Comprehensive Cancer Center of Northwestern University, our physicians, scientists, nurses, and devoted staff are doing just that. Guided by our mission, we are providing expert, compassionate care and support services to our patients, their families, and the broader community. Each day, we are working to reduce the burden of cancer for patients and increasing access to cutting-edge cancer information, prevention, screening, and treatment.
As a National Cancer Institute (NCI)-designated Comprehensive Cancer Center and part of a great academic medical center, we also are leading high-impact laboratory, translational "bench to bedside," and clinical trial studies, as well as training a new generation of experts in oncology for the benefit and service of people facing cancer worldwide. Our mission has never been more urgent as we fight cancer in all of its forms.
In 2018, Lurie Cancer Center received the highest rating possible from the NCI, an overall "exceptional" on the competitive renewal of our Cancer Center Support Grant. In addition to receiving the highest rating in the history of any cancer center in Chicago for excellence in research programs and cancer care, Lurie Cancer Center received a near-perfect impact score of 12*, which places us among the top five cancer centers in the country. In addition, we are proud to be a founding member of the National Comprehensive Cancer Network (NCCN), the elite group of institutions that sets the standards for cancer care. We are also the only member in Illinois.
Emboldened by these achievements, we are on a path to establish Lurie Cancer Center as a global leader in cancer care and research. As you will read, we have our eyes on the future with a blueprint to achieve our goals with the passion and daily commitment of our Lurie Cancer Center members, collaborators across Northwestern University and Northwestern Medicine, and our community of wonderful donors, advocates, and friends. Our big, bold goal is to raise $100 million in philanthropic dollars—all to bring our highly innovative research, training, and community impact efforts to the next level of "exceptional" for our patients in Chicagoland and worldwide.
Please join me and our team on this journey by supporting this campaign for our future. On behalf of Lurie Cancer Center, thank you from the bottom of my heart for your trust and confidence in us.
With tremendous gratitude,
Leonidas C. Platanias, MD, PhD
Director, Robert H. Lurie Comprehensive Cancer Center of Northwestern University
Jesse, Sara, Andrew, Abigail, Benjamin and Elizabeth Lurie Professor of Oncology

Your generous support fuels our innovation and discovery.
---
*The NCI assigns numerical scores to centers on a unique scale that ranges from 10 to 90, with 10 being a perfect score.