A Letter to my Care Team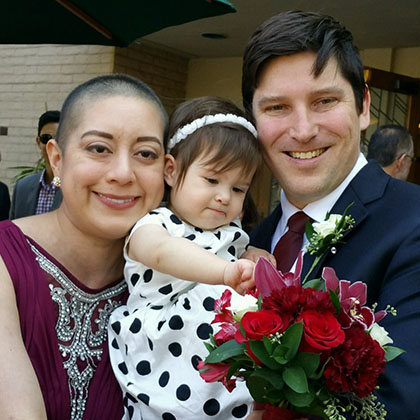 To the amazing people who cared and continue to care for me:
I am grateful for my care teams, from my diagnosis with non-Hodgkin's lymphoma and into survivorship. My care team is fluid and includes many amazing people. 
To the Developmental Therapeutics team at Lurie Cancer Center, thank you for being kind and welcoming as you drew my vitals; and for taking a personal interest in me and my family. You always made me laugh and ensured there were snacks and water on hand before my inpatient stays for chemotherapy.
To my doctors, especially my brilliant oncologist, Dr. Reem Karmali, thank you for being my superhero and for being silly with me to make me feel better emotionally.
To my nurses, thank you for boosting me up during my inpatient stays and for helping my husband with the various 1000-piece puzzles he brought into my room to keep us busy. Nurse Patty believed in me and ensured I did my rounds around the hallways to stay active. Nurse Ilana was my daughter's almost-namesake, and has such a kind yet empowering demeanor.
To my husband, thank you for inspiring me to journal, watching our favorite shows late into the night, hugging me despite many cords connected to the port catheter on my chest, sterilizing our entire home, and cooking healthy, neutropenic diet-friendly food I craved when my taste buds temporarily morphed during chemotherapy. It was a throwback to when I was pregnant with our (now) two-year-old, which brought back fun memories. You even brought home a second dog for me - all the way from Minnesota - as I wrapped up my final cycle of chemotherapy and immunotherapy.
To my family, including my parents, brother, and in-laws, thank you for helping to care for my baby, who was just over five-months-old when I was first admitted to the Northwestern Medicine Emergency Department for three blood clots and a mediastinal mass the size of a hearty grapefruit due to the Non-Hodgkin's Lymphoma.
To my friends, like Jackie and Crystal, thank you for walking 5Ks for me, and for bringing me pizza and hilarious dog memes, respectively.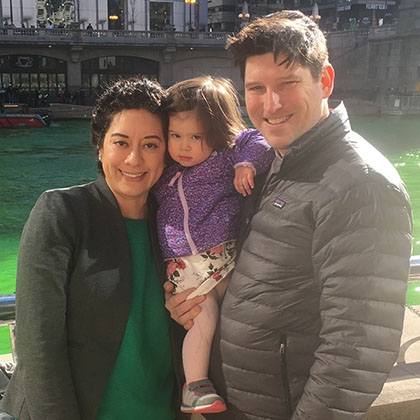 To my daughter, Alana, thank you for teaching me to pick myself up after falling as you learned to crawl, and then walk, all while I was receiving inpatient care. Every time you laughed it was music to my ears.
To everyone who came to visit during my inpatient treatment, thank you for enjoying the views of Lake Michigan, and for having dance parties with me to Motown classics or bossa nova tunes. I am grateful for the ongoing support I have from all of the above.
I am a cancer survivor, now getting care at the Lurie Cancer Center at Northwestern Memorial Hospital. Lurie Cancer Center also has great psychologists, such as Dr. Stacy Sanford, and social workers- shout out to Robin Katz who helped me learn about financial resources that made a huge difference for me and my family. Through a support group Robin led, I made a connection between the work of Viktor Frankl, a neurologist, psychiatrist and Holocaust survivor, and my own experience with cancer survivorship. Aligning my life and values, and seeing the beauty in small things has definitely made me a better person, and I will be forever grateful. Lurie Cancer Center's Adolescent and Young Adult (AYA) Cancer Program also has a great support group. They 100% understand me and don't judge-- a huge relief in a world that can be hard to navigate after cancer. 
I am grateful for my ongoing care and support as I transition to survivorship and look toward the future. 
Sincerely,
Monica Garcia Norlander