2018 Lurie Cancer Center Symposium and Scientific Poster Session
The 10th Annual Lurie Cancer Center Symposium and 29th Annual Scientific Poster Session, held June 28 at the Robert H. Lurie Medical Research Center, provided a forum for graduate students and postdoctoral fellows to display their work, network, and learn about the cancer-related research of their colleagues.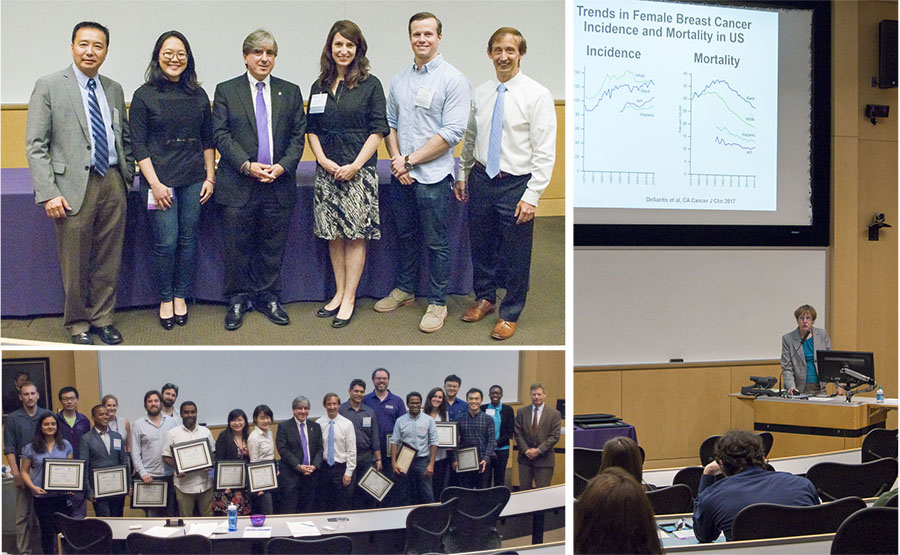 The symposium, co-chaired by Yong Wan PhD, and Sadie Wignall, PhD, featured Keynote Speaker Nancy E. Davidson, MD, Senior Vice President of the Clinical Research Division at the Fred Hutchinson Cancer Research Center, and presentations by postdoctoral fellows and graduate students about their research in the labs of Lurie Cancer Center members.
Following the Keynote Presentation, "Tackling Epigenetic Changes in Breast Cancer," faculty, fellows and lab members, including recipients of grants from the Katten Muchin Rosenman, Center for Genetic Medicine, Cancer Immunotherapy, and Cancer Prevention and Control Travel Scholarship Programs, gathered in the Ryan Atrium for the poster session highlighting their outstanding contributions to cancer research.
We are pleased to announce the award recipients and their posters:
Neutrophils confer growth and survival advantages to colorectal adenocarcinoma in response to genotoxic stress
Triet Bui
PhD Student, Pathology

6mer seed toxicity in tumor suppressive microRNAs
Quan Gao, PhD
Post-doc, Medicine

Trafficking and positioning of desmoglein-1 during desmosome assembly
Marihan Hegazy
PhD student, Pathology

Global chromatin occupancy and epigenetic signature analysis reveal new insights into the function of GATA1 N-terminus in erythropoiesis.
Te Ling, PhD
Post-doc, Medicine

Photos from the event are now available online.
Back to top