David Cella Elected to National Academy of Medicine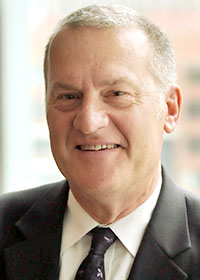 David Cella, PhD, Associate Director for Cancer Prevention and Control Research at the Lurie Cancer Center, has been honored with election to the National Academy of Medicine (NAM). Previously known as the Institute of Medicine, NAM is one of three academies that make up the National Academies of Sciences, Engineering and Medicine in the U.S, and is one of the highest honors in the fields of health and medicine. NAM serves as a source of expertise by providing independent, evidence-based scientific and policy advice to inspire action across the private and public sectors regarding critical issues in health, medicine and science.
As chair and Ralph Seal Paffenbarger Professor of Medial Social Sciences, Cella leads the development of transdisciplinary scientific collaborations and projects, and oversees its academic and research programs, financial operations, faculty affairs and program development. An international expert in the measurement and application of patient-reported outcomes in healthcare settings, his career spans nearly 860 publications and his research has helped advance the understanding of mechanisms and measurement of health and disease to improve patients' quality of life.
"Election to NAM is the highest honor that I can imagine, because it comes from peers at the highest level of scholarship in our nation," Cella said. "I hope that my election might inspire others who work in outcomes research and health care improvement to strive to further their career goals and make an impact on our nation's health." Cella was also the first scientist to explore the use of item response theory in health measurement, which helped generate new possibilities for better determining a patients' symptoms, functioning and perceptions of overall health and well-being.
"Getting this high recognition from my peers reassures me that the work I do has value that matters to the people that matter: our patients," Cella said. "Going forward, I will continue to search for ways to promote better health and encourage others to take on the challenges we face in delivering truly patient-centered health care and outcomes research."