Feng Yue Named Director for Cancer Genomics in the Lurie Cancer Center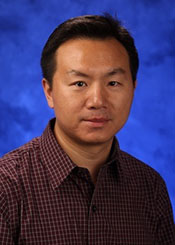 Feng Yue, PhD, an expert in the dynamic field of cancer genomics, has been appointed director of the Center for Cancer Genomics of the Lurie Cancer Center.
Yue was recruited in a joint effort with the Department of Biochemistry and Molecular Genetics, the Simpson Querrey Center for Epigenetics, and the Center for Genetic Medicine, and will join Northwestern this summer. His research focuses on how genetic variants contribute to gene regulation and three-dimensional organization of DNA molecules that influence human diseases.
"Feng is a superstar who is going to change the way we look at cancer cells and glean molecular information," said Ali Shilatifard, PhD, chair of Biochemistry and Molecular Genetics, Director of the Simpson Querrey Center for Epigenetics, Leader of Lurie Cancer Center's Cancer Epigenetics & Nuclear Dynamics (CEND) Program, and the Robert Francis Furchgott Professor. "There is no doubt in my mind that the application of Feng's Hi-C method to clinical samples will revolutionize diagnosis and treatment of cancer." 
This initiative will advance basic, translational and clinical research in cancer genomics, and promote data sharing across disciplines. "The recruitment of Feng Yue will dramatically impact our research efforts" said Leonidas Platanias, MD, PhD, director of the Lurie Cancer Center and the Jesse, Sara, Andrew, Abigail, Benjamin and Elizabeth Lurie Professor of Oncology. "We are poised to maximize the potential of cancer genomics and accelerate its translation to precision oncology and individually tailored therapies".
Dr. Yue joins Northwestern from the Penn State College of Medicine, where he was Director of Bioinformatics in the Penn State Institute for Personalized Medicine. He received his postdoctoral training at the Ludwig Institute for Cancer Research, UCSD School of Medicine.