Al B. Benson III, MD, Named to ECOG-ACRIN Executive Leadership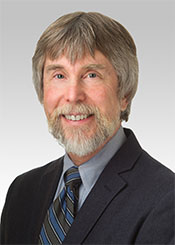 Al B. Benson II, MD, was appointed Deputy Chair for Policy and Implementation by the ECOG-ACRIN Cancer Research Group (EA). In this new position within EA's executive leadership, he will play a key role in the cancer research organization's continued success.
In particular, Benson will lead EA's efforts to strengthen collaboration between academic and community participants, and expand real-world opportunities and community leadership. His expertise in program and guideline development will be critical to the development of a focused, integrated research program within ECOG-ACRIN.
Benson is director for Cooperative Groups at the Lurie Cancer Center, a professor of Medicine in the Division of Hematology and Oncology at Feinberg, and a medical oncologist at Northwestern Memorial Hospital. He is an active member of ECOG-ACRIN, where he serves as chair of the EA Data Safety Monitoring Committee, co-chair of the NCI Community Oncology Research Program (NCORP) Community Advisory Committee, co-chair of the Cancer Care Delivery Research Committee, and the immediate past chair of EA's Gastrointestinal Cancer Committee.
Dr. Benson is a recipient of the American Society of Clinical Oncology (ASCO) Statesman Award, and has also chaired and served on a number of committees. He is a member of the NCI Rectal/Anal Cancers and the Colon Cancer Task Forces, as well as chair of the International Rare Cancers Initiative (IRCI), Anal Cancers Committee, and a member of the Small Intestinal Cancer Committee. He is an executive committee member and past-chair of the Board of Directors of the National Comprehensive Cancer Network (NCCN), and a member of the Board of Directors of the NCCN Foundation. He is the chair of both the NCCN Hepatobiliary Guidelines Panel and of the Colon, Rectal and Anal Panel, and a member of the Pancreatic Cancer and Neuroendocrine Panels. Benson is also chair of the Big Ten Cancer Research Consortium Steering Committee. He is a past president of the International Society of GI Oncology (ISGIO), and a member of the Executive Committee of the Patient Advocate Foundation, and the National Patient Advocate Foundation.
Formed by the merger of the Eastern Cooperative Oncology Group and the American College of Radiology Imaging Network, the ECOG-ACRIN Cancer Research Group is a multidisciplinary, membership-based scientific organization that designs and conducts biomarker-driven cancer research involving adults who have or are at risk of developing cancer. The Group is dedicated to its stated purpose, which is to achieve research advances in all aspects of cancer care and thereby reduce the burden of cancer and improve the quality of life and survival in patients with cancer.