Al B. Benson III, MD, Honored as "Physician of the Year" by CancerCare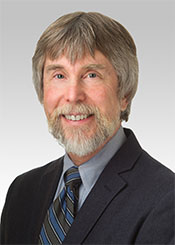 Al B. Benson III, MD, FACP, FASCO, was honored as "Physician of the Year" by CancerCare, the leading national nonprofit organization providing free support services to anyone affected by cancer. Benson is director of Cooperative Groups at the Robert H. Lurie Comprehensive Cancer Center of Northwestern University and professor of Medicine in the Division of Hematology and Oncology at Northwestern Medicine.
An internationally recognized expert on gastrointestinal cancers, Benson received CancerCare's prestigious "Physician of the Year" award at their Board of Trustees Meeting, held December 11, 2019. For more than two decades, Dr. Benson has participated in CancerCare's Connect Education Workshops and offered his expertise and compassionate service to people affected by cancer. He has shared updates from the American Society of Clinical Oncology (ASCO) annual meetings, discussed precision medicine and clinical trials, spoken on colorectal cancer and much more.
"I've been working with Dr. Benson for the last 25 years and I'm always in awe of his compassion towards our clients and our mission," said Carolyn Messner, DSW, OSW-C, LCSW-R, FAPOS, FAOSW, CancerCare's Director of Education and Training. "CancerCare is so lucky to have him work on our programs."
"Our Connect Education Workshops are a key pillar of CancerCare's educational resources, and we are so grateful to Dr. Benson for his years of service. This award is meant to honor the professionals who give so generously of their time and expertise," said Patricia J. Goldsmith, Chief Executive Officer of CancerCare.
"This award is the greatest honor a physician can receive from a group that advocates so much for the patient," said Dr. Benson as he accepted his award. "My life goal was to interact with people through advocacy, and groups like CancerCare are essential in transforming the oncology space."
CancerCare looks forward to many years of continued collaboration and partnership with Dr. Benson, and other leading oncologists from renowned centers across the country.