Desiree West, RN, Named DAISY Award Winner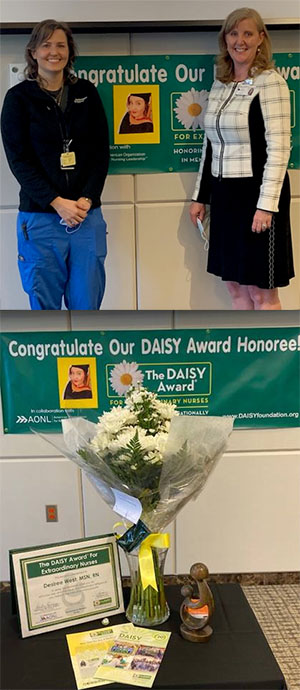 Congratulations to Desiree West, RN, Lead Infusion Nurse in Lurie Cancer Center's Maggie Daley Center for Women's Cancer Care in Prentice Women's Hospital, for receiving the first Northwestern Medical Group DAISY Nursing Award on Northwestern Medicine's Chicago campus! 
Desiree was surprised with a Zoom celebration on June 16, where she was joined by many of her family members, colleagues, and members of the DAISY committee. The award was presented by Kristin Ramsey, MSN, RN, Senior Vice President and Wood-Prince Family Chief Nurse Executive at Northwestern Memorial Hospital. The evening's highlight was hearing first-hand from Desiree's patient, who read the nomination she'd written to express her gratitude for Desiree's extraordinary care throughout her cancer treatment at the Lurie Cancer Center and Northwestern Medicine.
Awarded quarterly, the DAISY Award for Extraordinary Nurses was created by the DAISY Foundation and to provide on-going recognition of the clinical skill and compassion nurses provide every day. Today there are organizations in all 50 states and 28 other countries committed to honoring nurses with the Daisy Award.