Collaborative Grant to Advance Veterans' Access to Cutting-Edge Lung Cancer Care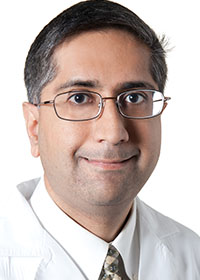 In the past decade, mortality rates from lung cancer have fallen sharply in the United States, due primarily to major advances in treatment – from immune checkpoint inhibitors to therapies that target genetic changes seen in some lung tumors. Despite these therapeutic advances, lung cancer is still the leading cause of cancer death in both men and women. It is also the leading cause of cancer-related death in Veterans receiving care in Veterans Affairs (VA) medical centers throughout the U.S.
A new $4.5 million grant from the VA's Office of Research & Development has been awarded to the Jesse Brown VA Medical Center (JBVAMC). The comprehensive, collaborative five-year grant will enable multidisciplinary research teams from the Robert H. Lurie Comprehensive Cancer Center of Northwestern University and the University of Illinois Cancer Center to address life-threatening, unmet medical needs of Illinois veterans as a Hub site of the VA's National Lung Precision Oncology Program (LPOP).
As part of the VA's goal to develop a System of Excellence for Precision Oncology, LPOP Hub sites will form an integrated national network of 17 VA Medical Centers to serve as Centers of Expertise in lung cancer screening and precision oncology. In addition, these Hubs of clinical and research expertise will partner with Spoke sites to ensure that veterans have access to the same state-of-the-art lung cancer care and clinical trials, regardless of location.
To that end, Captain James A. Lovell Federal Health Care Center (LFHCC) in North Chicago, Illinois, will partner with JBVAMC, serving as the program's Spoke site. With the overarching goal of providing timely access to high quality lung cancer screening, treatment and clinical trials, LPOP-Illinois Veterans (LPOP-IV) aims to:
Establish community outreach and resource navigation for veterans at high risk for lung cancer
Educate primary care providers at JBVAMC and LFHCC about the process of lung cancer screening
Provide access for veterans to cutting-edge research and precision oncology-based lung cancer clinical trials at JBVAMC and LFHCC.
The LPOP-IV is led by Hidayatullah Munshi, MD, Professor of Medicine in the Division of Hematology and Oncology at Northwestern University Feinberg School of Medicine, and Lawrence Feldman, MD, Professor of Clinical Medicine in the Division of Hematology and Oncology at the University of Illinois College of Medicine. Dr. Munshi is also leader of the Tumor Environment and Metastasis (TEAM) Program at the Lurie Cancer Center and Staff Physician at the JBVAMC. In addition, the LPOP-IV multidisciplinary team includes Nisha Mohindra, MD (Lurie Cancer Center), Israel Rubinstein, MD (University of Illinois College of Medicine), and Mukta Pant-Purohit, MD (LFHCC).