Ponying Up: Coping with Hair Loss & Regrowth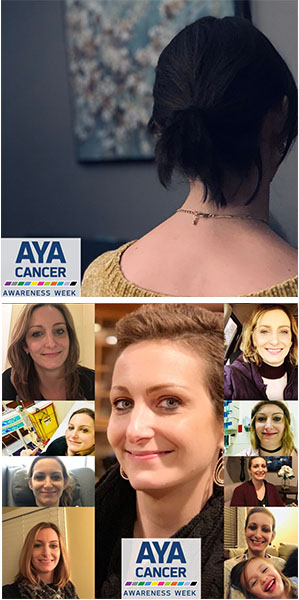 It's not just a ponytail.
From my roots to my wiry ends,
Each strand on my head has survived to tell quite a tale.
It took two full years to get to this point.
Through many cycles of death and regrowth.
Wispy and wild, to shaved mullet and the 'mom bob',
No choice but to make peace with my changing appearance.
The mirror, both friend and foe,
Reflecting just how much everything has changed.
Strands turned into clumps;
Clumps soon became handfuls.
Losing a little bit of myself with each broken strand.
"It's just hair."
I tried to reassure myself.
"It will grow back."
Healthier, thicker, maybe even a different color?
"All this hair loss means the chemo is really working."
I tried hard to find the silver lining.
Not having to pay to get my hair colored or highlighted.
Not having to spend hours dying, styling and fussing with it.
All the time and money I saved.
My hair is a crowning achievement of womanhood.
Losing my hair meant saying goodbye
To the version of ME
I had known my entire life.
Accepting the painful reality,
The cancer patient in the mirror is really me,
Head wraps, scarves and beanies,
Painting in my eyebrows, ensuring my wig's always secure.
How I longed to be able to run my fingers through my hair without the fear of falling clumps.
How I missed being able to tie my hair back and let it down after a long day.
How I forgot the feeling of my ponytail swaying with my every move.
No, it's not just another ponytail.
Every inch is a marker of progress and a sign of resilience.
From the turmoil of what was; the new me is taking shape.
After unimaginable pain and destruction,
Change has taken root.
It's not just another ponytail.
Each millimeter of hair growth,
A tangible symbol of healing and progress.
One step closer to long-term remission,
Transforming my treatment into a distant memory.
It's not just a ponytail.
It's more than just hair.
It's a symbol of hope,
Reminding us that our comeback
Will always be greater than our setback.
During her treatment at the Lurie Cancer Center at Northwestern Memorial Hospital, Melanie began blogging to help her cope and let others know that even in the most difficult times, there is always hope and something to be grateful for. You can read more about Melanie's journey on her blog at hopefulwarrior.com.