My Story With Cancer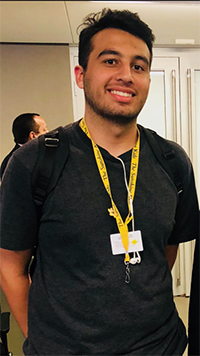 Hi! My name is Mohammed Kadiri. I am 19 years old, and I am currently a sophomore at the University of Illinois at Urbana-Champaign. I am also serving as a member of Lurie Children's Hospital AYA Advisory Council!
My story with cancer starts when I was 15 years old. Sharp shoulder pains and flu-like symptoms, along with red dots on my legs and nightly sweats, led me to pay a visit to the emergency room the day before we got back to school from spring break. When the ER doctor told me that leukemia or lymphoma was a possibility, I was amazed at the thought in my head. "This'll be such a cool story to tell my friends tomorrow" was the only thing I could tell myself as we waited on blood test results to arrive.
Soon, however, I was transferred to Lurie Children's Hospital, and on the morning of April 3, I was diagnosed with T-cell Acute Lymphoblastic Leukemia.
Needless to say, this was very unchartered territory for me. Growing up, I was a very healthy kid: I played soccer, worked out 3-4 times a week, and ate healthy meals (except for the occasional burger or pizza, of course). I was also what many would consider your average teenager: I loved hanging out with my friends, spending time with my family, kept up with all sports and hated homework. I was fortunate in the sense that I never had to worry about any health issues prior to my diagnosis. Being 15 years old, I was old enough to observe what was happening to me, but not really understand it.
The next few months were very hard for my family and me. Even though I was declared cancer-free just a couple months later, I still had months of intensive chemotherapy (that, at one point, involved visits to the hospital three times a week) and years of chemotherapy. I changed a lot physically, and emotionally, I felt like nothing would ever be the same again.
However, as my treatment went on, I began to grow into the community of patients and their families, doctors, nurses, and organizations around me. I began to take immense interest in helping those that had to experience the same things my family and I were going through. I got involved with the Leukemia and Lymphoma Society, went on a trip to New York City with other patients thanks to Sunshine Kids, and now, I'm lucky enough to be a member of the AYA Advisory Council at Lurie Children's Hospital. I'm even blessed with the opportunity to be studying Molecular and Cellular Biology at UIUC, with the hopes of becoming a pediatric hematologist oncologist someday. I found that helping those that have had to fight, or currently are fighting, this same battle has given me a better idea of how big our community of cancer patients, survivors, fighters, and their families really is. 
That 15-year-old kid had no idea about the people he'd meet, the things he'd do, or what his future held. Looking back at it now after having completed my treatment in July, I can honestly say that I'm proud of the man I've become. It wasn't entirely my doing, as I had a whole community's support and guidance from Allah that were essential to the whole process, but I'd like to think I've learned a lot about life, myself, and what truly makes one brave in these last three-and-a-half years. And I hope that, by being a part of the AYA Advisory Council at Lurie Children's Hospital, I can help others around me that may or may not have to fight those battles, learn those same lessons and win their own fights.