Celebrating Together, While Apart
Virtual Cancer Survivors' Celebration Walk & 5K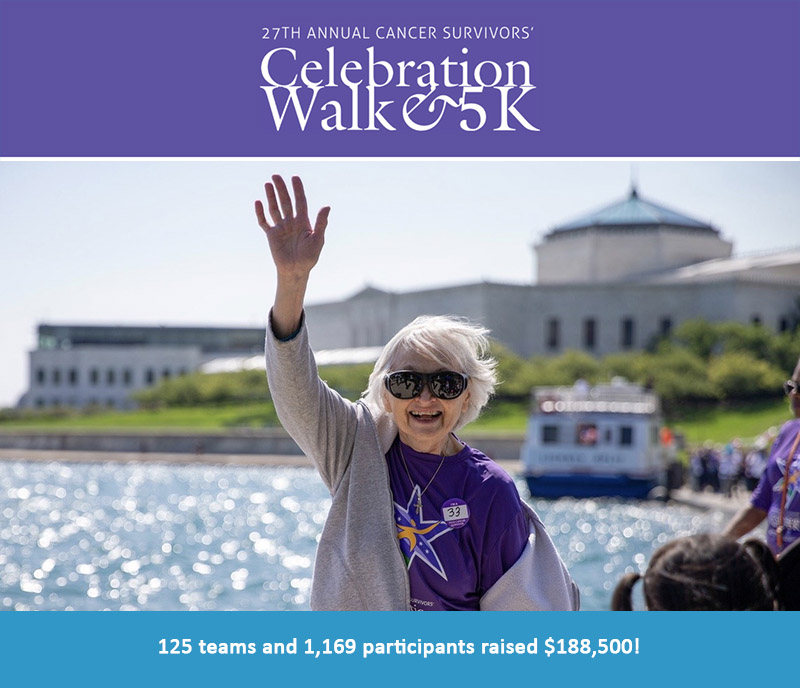 On Sunday, June 7, the 27th Annual Cancer Survivors' Celebration Walk & 5K was also our first virtual celebration. Although we missed gathering in person on National Cancer Survivors Day, it was exciting to share the experience, virtually, with cancer survivors and supporters, friends and families throughout the city and across the country! 
Thanks to the commitment of nearly 1,200 participants and 125 teams in 33 states, we were able to honor cancer survivors, celebrate milestones, and raise more than $188,000 to advance lifesaving research and treatment. You can still donate here through June 30 to help physicians and scientists at the Lurie Cancer Center and Northwestern Medicine translate discoveries into new treatments and better outcomes for our patients.
No matter where or when they chose to be active on National Cancer Survivors Day, our Virtual Program provided participants with signs, music, videos, and all the resources for a memorable celebration. Our virtual Dedication Wall brought everyone together, with photos and messages of love, support and hope.
This year's event marked an important milestone for 15-year-old Charlie and his family. For months they'd been planning to celebrate Charlie's 15th "cancerversary" as a retinoblastoma survivor at their 15th Cancer Survivors' Celebration Walk & 5K. "It's the one day I look forward to every summer," says Charlie's father. "It shuts off all the noise and helps me focus on what really matters. It is truly my favorite day of the year. Nothing but LOVE!" Read more and view their celebration here.
Now more than ever, we need research to accelerate progress, and we are grateful to all of our donors and fundraising teams for leading the charge. In addition to transforming the lives of people facing cancer, this year donors also have an option to fund COVID-19 research and prevention efforts that may benefit cancer patients and others at increased risk of complications.
---
Special thanks to our top fundraising team, "Cancer Sucks,"
led by team captain and top 2020 fundraising participant, Mark Dybas.
Thank you to our sponsors:
Presenting Sponsor, the Scott & Sara Fisher Family
Affiliate Sponsors, the All of Us Research Program, Chicago White Sox Charities and Equity Residential Foundation 
---
We hope to see you, in person, at the 28th Annual Cancer Survivors' Celebration Walk & 5K!