New FDA-Approved Treatment for Metastatic Breast Cancer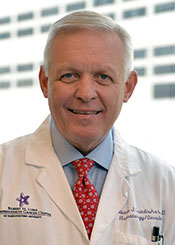 The FDA has approved a new HER2-targeted therapy for the treatment of metastatic breast cancer based on findings from a pivotal clinical trial published in JAMA Oncology.
William Gradishar, MD, chief of the Division of Hematology and Oncology and deputy director for the Clinical Network of the Lurie Cancer Center, is senior author of the phase 3 SOPHIA study which showed treatment with margetuximab-cmkb plus chemotherapy improved progression-free survival in patients with HER2-positive metastatic breast cancer who have progressed on available therapies.

"The approval of this new drug represents an effort to improve the efficacy of the older drug, trastuzumab, by engineering part of the antibody which enhances its ability to engage the patient's immune system against the tumor," said Gradishar, the Betsy Bramsen Professor of Breast Oncology. "In the last year there has been a marked expansion of therapeutic options for patients with HER2-positive breast cancer. We still have a lot of work to do, as patients are still dying as a result of HER2-positive metastatic breast cancer — but we've made significant progress."

"We're not only preventing recurrences from developing in patients with early-stage disease, we've also extended the survival of patients who have metastatic disease.," he added. "The new options, including margetuximab-cmkb, mean that we can continue to offer patients other therapies, and hope, even after the disease progresses."