Candace Henley: Affecting Change Through Colorectal Cancer Awareness and Advocacy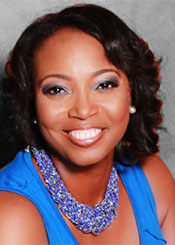 Candace Henley felt as though her cancer diagnosis was a verdict. 
When she was diagnosed with colorectal cancer in 2003, she was a 35-year-old single mother raising five daughters. As a Black woman, she found herself feeling as though she was falling through the cracks in the healthcare system. "With no information, no direction, and no assistance, it felt like no one was interested in finding answers or guiding me through the next steps. Everything I read always mentioned how unlikely I was to survive."
But survive she did. Henley made a full recovery and took what she learned from her arduous journey to help others. In 2010, she founded The Blue Hat Foundation for Colorectal Cancer Awareness, an organization committed to supporting underserved community members who don't have access to cancer prevention resources. 
The Blue Hat Foundation began as a single "Blue Hat Bow Tie Sunday" at Henley's church and has since expanded to a thriving organization. Henley says, "We have formed friendships and partnerships with amazing people who want to see me succeed and believe in our mission. I never imagined that I would be able to speak in front of professionals at the top of their field and have my perspective on the patient experience actually listened to."
Now, years after that fateful doctor's visit, the Alliance for Research in Chicagoland Communities (ARCC) Community Chair spends time sharing a journey that is nowhere near the end. Today, she strives to offer hope, enhance awareness, and provide free cancer screenings to members of underserved communities.
Henley has brought her experience from running Blue Hat to the ARCC Steering Committee within the Center for Community Health (CCH). Now that she's spent a full year as the ARCC community chair, she's had some time to reflect on the committee's significance.
CCH has a presence in the Northwestern University Clinical and Translational Sciences Institute (NUCATS), as well as Northwestern's Institute for Public Health and Medicine (IPHAM), and provides community and stakeholder engagement infrastructure across the research spectrum.
"I already knew that community-engaged research is not one size fits all. I learned so much about other communities of color, LGBTQ+ people, and people with disabilities, and the efforts of inclusion they face," Henley says. "You are often so busy fighting your own fight that you don't think about others fighting the same battle with the added obstacle of health inequity. ARRC provided a wide-angle lens to learning what community-engaged research was about. It's about the people — all people.
"To affect change, you have to be in the spaces and places for change to occur. You can't just say you want to see change; you have to do the work."
Henley is also inspired by ARCC's commitment to equitable and collaborative partnerships between Chicago-area communities and Northwestern: "ARCC was initially appealing to me because its priorities were in line with ours as a foundation to improve the lives of minority communities impacted by cancer and other comorbidities that fall under the umbrella of healthcare inequity."
Throughout March's Colorectal Cancer Awareness Month, Henley and the Blue Hat Foundation are teaming up with Lurie Cancer Center and the Big Ten Cancer Research Consortium for "Screening Madness" to increase awareness of the importance of colorectal cancer screening. She also delivered the keynote speech at a community forum led by the Chicago Cancer Health Equity Collaborative (ChicagoCHEC), a National Cancer Institute-funded initiative to reduce cancer inequities in Chicago's medically underserved communities.
On top of her work with Blue Hat and ARCC, Henley is a taskforce member for the Chicago Community Media Research Partnership. Supported through funding from the Patient Centered Outcomes Research Institute, the partnership is a two-year project co-led and co-designed by Public Narrative and ARCC, and seeks to understand and cultivate how information about health and research is disseminated in under-resourced communities. By building relationships with community stakeholders, community and ethnic media, and researchers, taskforce members like Henley seek to understand how research can reach underserved communities in Chicago.
Looking to the future, Henley has several projects in the works. With the Blue Hat Foundation, she plans to continue the Truth Talking Tour, a symposium focusing on women's sexuality after cancer, alongside community partner Joann Glenn and the Women on Top of Their Game Foundation. She also looks forward to continuing her work with ARCC and acting as a voice for her community.
On what inspires her to keep going, Henley says, "There should be nothing about us without us. Communities of color will continue to be left behind in research if we don't participate willingly this time. We have to do our part to help improve our community's health outcomes, and it's not enough to complain and wait; we must be proactive, educate ourselves and make informed decisions about our health. History has not been kind with false assumptions about minorities in research. It's time to get it right." 
Written by Morgan Frost