Inaugural Translational Applications in Medical Research Lecture
Cancer research is by nature translational.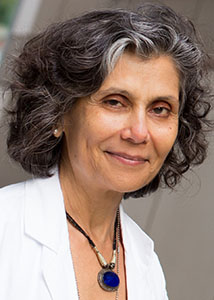 Seema Khan, MD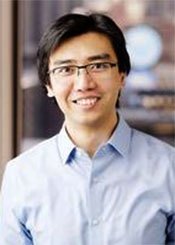 Yuan Luo, PhD
That was the message Firas Wehbe, MD, PhD, associate professor of Preventive Medicine in the Division of Health and Biomedical Informatics and Chief Research Informatics Officer at Northwestern University Feinberg School of Medicine, conveyed to an audience of interdisciplinary researchers when Seema Khan, MD, and Yuan Luo, PhD, presented their research on "Computational Phenotyping to Ascertain Breast Cancer Recurrence," during the inaugural Translational Applications in Medical Research lecture on February 15.
Wehbe, who is also director of Applied Research Informatics Group at NUCATS and associate director for clinical informatics in the Quantitative Data Sciences Core at the Lurie Cancer Center, served as the program's moderator. Khan is the Bluhm Family Professor of Cancer Research, co-leader of the Cancer Prevention Program at the Lurie Cancer Center, and a member of NUCATS. Luo is associate professor of Preventive Medicine in the Division of Health and Biomedical Informatics, Chief AI Officer at NUCATS and the Institute of Augmented Intelligence in Medicine, and a member of the Lurie Cancer Center.
Luo and Khan framed their lecture with a problem: the lack of accessible or existing data about breast cancer recurrence. A refined dataset about recurrence, they posited, holds the potential to improve treatment and predict whether treatment will be effective. In 2020, Luo and Khan published the results of an innovative collaboration to improve knowledge about local recurrences, defined by a malignant tumor that appears at the original cancer site after a lumpectomy or mastectomy.
Luo explained the issues surrounding the common practice of manual chart review. "This outdated system is error-prone, labor-intensive, and time-consuming," he says. "It's nearly impossible to perform large cohort studies under this system."
Instead, Luo recommends use of a new, easy-to-replicate model based on patients' Electronic Health Records (EHRs), which makes it much easier to observe genetic differences in large studies.
Another benefit of EHRs is that they are readily available at all health institutions, meaning that their model could be widely utilized by hundreds of hospitals and research centers. "The use of EHRs that can be easily mined for data would give researchers access to massive datasets," says Luo. "This has the potential to reveal the factors that might lead to recurrence and give researchers a huge step up when it comes to effective, long-term care for cancer patients."
Khan described the translation of the bioinformatics work to a clinical question and focused on the long-term outcomes of pre-operative magnetic resonance imaging (MRI) on breast cancer patients. She explained that the clinical paradigm is that planning of surgical treatment based on pre-operative breast MRI is beneficial to breast cancer patients because it will lead to improved local control, with its attendant benefits. However, the procedure is costly, has a high false positive rate, a higher rate of conversion to mastectomy, and, most importantly, there is no evidence of improved cancer outcomes with an MRI.
"The question is whether MRI-based surgical planning is worthwhile," Khan says. Previous work has shown a lack of benefit in cancer outcomes overall, but an important remaining question was whether it would benefit younger women (those under 50). After examining the dataset generated in collaboration with Luo, her research team concluded that MRI shouldn't be an across-the-board recommendation, including for women younger than 50. A randomized trial addressing this question is close to completion, but is unlikely to have adequate numbers of younger women; therefore, the investigation of this and similar questions will be greatly aided by the availability of large, curated data sets drawn from EMRs, that are able to extract valid cancer outcome data.
Luo and Khan specifically acknowledged Zexian Zeng, PhD, who was their joint PhD student, for working with a team of other students, fellows and clinical coordinators and spearheading the project. They plan to continue to use EHR data to answer other questions surrounding longer-term outcomes of cancer diagnoses, but the pair recognize that this requires a multidisciplinary effort. "The most vital aspect of our continuing research is that we consistently communicate with other clinicians, EHR designers, and patients," Khan says. Luo adds, "Cancer research has to be a team effort."
The lecture series marks a new collaboration between the Robert H. Lurie Comprehensive Cancer Center of Northwestern University and the Northwestern University Clinical and Translational Sciences (NUCATS) Institute.
"The Lurie Cancer Center has remarkable strengths in scientific leadership, resources and leading-edge cancer research. In partnership with NUCATS, we look forward to exploring novel approaches and new opportunities to translate discoveries into meaningful progress," says Leonidas Platanias, MD, PhD, director of the Lurie Cancer Center and the Jesse, Sara, Andrew, Abigail, Benjamin and Elizabeth Lurie Professor of Oncology.
"This lecture series highlights the shared commitments of the NUCATS Institute and the Lurie Cancer Center: accelerating research discoveries to improve human health in each of our domains," adds Richard D'Aquila, MD, NUCATS director; Howard Taylor Ricketts, MD, Professor of Medicine; and associate vice president of Research. "Drs. Luo and Khan are perfect for launching this series because they are exemplars of the collaborative research being done at Northwestern. Through innovative informatics, the process of reviewing thousands of breast cancer patient histories can now become more feasible, enabling more translational discoveries that may improve our clinical approach to the disease."