Seth Pollack, MD, Joins Northwestern Medicine as Director of the Sarcoma Program of the Lurie Cancer Center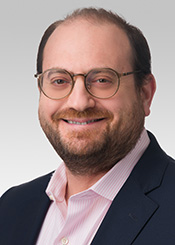 Seth Pollack, MD, a leading expert on immunotherapy strategies for treating sarcomas, has joined the Robert H. Lurie Comprehensive Cancer Center of Northwestern University as Medical Director of the Sarcoma Program. He is also the Steven T. Rosen, MD, Professor of Cancer Biology and associate professor of Medicine in the Division of Hematology and Oncology at the Feinberg School of Medicine.
Widely recognized for his clinical expertise in both sarcoma and immune-based therapies, Pollack is developing new ways to enhance a patient's immune responses against their cancer and improve their outcomes. Pollack's R01-funded laboratory research is focused on synovial sarcoma and myxoid/round cell liposarcoma, and on developing targeted immunotherapies, including vaccines and cellular therapies. 
Dr. Pollack leads multiple clinical trials that have moved his findings from the bench to the bedside around the world. At Northwestern Memorial Hospital, he will work closely with Lurie Cancer Center's multidisciplinary, patient-centered team who specialize in the treatment of these rare and complex cancers. "We are excited that Seth has joined the Lurie Cancer Center and Northwestern Medicine," said Leonidas Platanias, MD, PhD, director of the Lurie Cancer Center. "His leadership will substantially strengthen our clinical and translational efforts in sarcoma and impact our efforts in the development of immune therapies for other malignancies, as well."  
Board certified in medical oncology, Dr. Pollack joined Northwestern Medicine in January 2021 from the Fred Hutchinson Cancer Research Center in Seattle. "We are delighted with Seth's recruitment to Northwestern Medicine. His arrival will be the foundation of our continued evolution into a world-class sarcoma program offering cutting-edge research and novel therapeutic approaches," said William Gradishar, MD, Chief of the Division of Hematology Oncology.