Spring Receives Distinguished Scientist Award from Society of Behavioral Medicine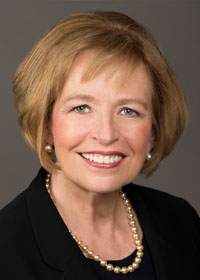 Bonnie Spring, PhD, co-leader of the Cancer Prevention Program of the Robert H. Lurie Comprehensive Cancer Center of Northwestern University, received the 2021 Distinguished Scientist Award from the Society of Behavioral Medicine (SBM), the nation's leading group of multi-specialty professionals dedicated to improving health and quality of life through proven behavioral science. 
The award, recognizing one outstanding scientist for their sustained contributions to behavioral medicine, is the highest honor given annually by SBM. Spring was honored for her research developing effective interventions to address prevalent behavioral risk factors, including smoking, obesity, and physical inactivity, which are the most preventable causes of cancers and heart disease.
"I'm deeply honored at a personal level to receive this lifetime achievement award from the Society that has been my professional home for more than 40 years," said Spring, chief of Behavioral Medicine in the Department of Preventive Medicine at Northwestern University Feinberg School of Medicine. "Even more important is the acknowledgement it represents from the scientific and medical communities of the pivotal role that behavior plays in preserving and restoring health. It's been a privilege to have my laboratory lead the way in demonstrating how risk reduction interventions can be scaled to make preventive care accessible to all."   
A distinguished psychologist, Spring is recognized as the first scientist to succeed at using mobile technology to improve multiple risk behaviors simultaneously. Subsequently, she was able to demonstrate that diverse population subgroups in a range of real-world settings can successfully use technology for health promotion.
Spring is also director of the Center for Behavior and Health at the Institute for Public Health and Medicine (IPHAM), and director of Team Science at the Northwestern University Clinical and Translational Sciences (NUCATS) Institute. Her most recent work has shown how applying engineering optimization methods can make risk behavior interventions highly cost effective. 
The SBM award was also recognition of Spring's national leadership, commitment to mentorship, and contributions to accelerating the translational pipeline by founding a new journal, Translational Behavioral Medicine, and influencing the American Psychological Association to adopt evidence-based practice guidelines for the prevention and treatment of physical health conditions.
"Medicine clearly faces no shortage of urgent problems. I'm a great proponent of use-inspired research, which seeks fundamental understanding of health determinants in the service of solving immediate problems," she said.