Lurie Cancer Center and Northwestern Medicine Experts Present at #ASH22

Physicians and scientists from the Robert H. Lurie Comprehensive Cancer Center of Northwestern University and Northwestern Medicine will present and discuss exciting new research and important clinical findings at the American Society of Hematology (ASH) Annual Meeting, December 10-13 in New Orleans. With more than 18,000 members from nearly 100 countries, ASH is the world's largest professional society serving both clinicians and scientists around the world who are working to conquer blood diseases.
Follow @LurieCancer and use #ASH22 to follow and share on Twitter.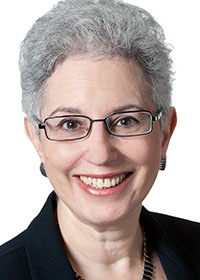 Please join us in thanking Lurie Cancer Center member, Jane Winter, MD, for her leadership as she finishes her year-long term as president of ASH.  An ASH member for nearly 40 years, Dr. Winter is a professor of Medicine in the Division of Hematology and Oncology at Northwestern University Feinberg School of Medicine and a hematologist at Northwestern Medicine.  Learn more about Dr. Winter's research and career here.
Presenting authors and investigators who will be leading sessions at #ASH22 include:
Friday, December 9
Blood Drop: Research Training Award Fellows
Speaker, Adam Yuh Lin, MD, PhD
1:30 p.m. – 2:00 p.m.
A Review of Next-Generation Therapeutics and Contemporary Management of Myelofibrosis
Speaker, Brady Stein, MD
3:00 p.m. – 6:00 p.m.
Saturday, December 10
Ham-Wasserman Lecture: Why Is the Risk of Developing Leukemia So High in Children with Down Syndrome and What Can We Do About It?
Chair, Jane N. Winter, MD
12:30 p.m. – 1:30 p.m.
Announcement of Awards
Chair, Jane N. Winter, MD
1:30 p.m. – 2:30 p.m.
Delayed Neutrophil Engraftment in Autologous Transplant Patients with Very High CD34+ Cell Collections in a Single Apheresis
Megan Melody, MD
5:30 p.m. – 7:30 p.m.
Receptor Targeted Delivery of the p38γ Inhibitor PIK-75 By Organic-Core Templated Lipid Nanoparticles in Cutaneous T Cell Lymphoma
Jonathan Rink, PhD
5:30 p.m. – 7:30 p.m.
Developing a Cancer-Associated Thrombosis Clinic: Two Year Experience
Brandon Bungo, MD
5:30 p.m. - 7:30 p.m.
Sunday, December 11
Synthetic Lipid Nanoparticles Actively Target Acute Myeloid Leukemia (AML) Cells and Induce Ferroptosis through Decreased Expression of Glutathione Peroxidase 4
Adam Yuh Lin, MD, PhD
6:00 p.m. – 8:00 p.m.
FLIPI-3: A New PET-Based Prognostic Index for Follicular Lymphoma Based on Results from a Validation Study with the ECOG-ACRIN E2408 Cohort
Frederique St-Pierre, MD
6:00 p.m. – 8:00 p.m.
Impact of Extranodal Disease Involvement on Outcomes in Post-Transplant Lymphoproliferative Disorder
Megan Melody, MD, MS
6:00 p.m. – 8:00 p.m.
Monday, December 12
Consensus Cachexia Criteria Are Independently Linked to Progression Free and Overall Survival in Multi-Site Analysis of Patients with Aggressive B-Cell Lymphomas Treated with CAR T-Cell Therapy
Ishan Roy, MD, PhD
5:15 p.m.
The Effects of Social Vulnerability on the Prognosis and Outcomes of Hodgkin's Lymphoma in Adults across the United States
Erik Wu
6:00 p.m. – 6:00 p.m.
SLFN11 Is a Potential Biomarker and Modulator of Treatment Response in AML
Sarah Small, MD, PhD
6:00 p.m. – 8:00 p.m.
Venetoclax (VEN) Plus Intensive Chemotherapy (IC) with FLAG-IDA in Patients (Pts) with Newly Diagnosed (ND) and Relapsed/Refractory (R/R) Acute Myeloid Leukemia (AML)
Yasmin Abaza, MD
6:00 p.m. – 8:00 p.m.
Impact of Race and Social Determinants of Health on Outcomes in Patients with Aggressive B-Cell Lymphomas Treated with Chimeric Antigen Receptor T-Cell (CART) Therapy
Reem Karmali, MD,
6:00 p.m. – 8:00 p.m.
Tuesday, December 13
Presidential Symposium: What the Hematologist Has Learned from the Pandemic
Chair, Jane N. Winter, MD
11:00 a.m. – 12:30 p.m.