William Gradishar Receives 2022 Rodger Winn Award from NCCN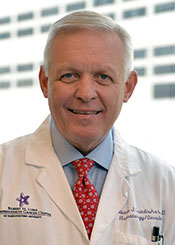 William Gradishar, MD, FASCO, FACP, Chief of Hematology and Oncology at Northwestern University Feinberg School of Medicine and Deputy Director of the Clinical Network of the Lurie Cancer Center, received the 2022 Rodger Winn Award from the National Comprehensive Cancer Network (NCCN) for his expertise and commitment to excellence in developing the NCCN Clinical Practice Guidelines.
Gradishar, the Betsy Bramsen Professor of Breast Oncology and Professor of Medicine, is also Director of the Maggie Daley Center for Women's Cancer Care at Northwestern Medicine's Prentice Women's Hospital, where he develops and implements clinical trials of new therapeutic approaches for breast cancer. "It's an honor to be chosen for this award, named after someone who was so foundational to the NCCN mission and who I had the privilege to know," said Gradishar, who is Chair of the NCCN Guidelines Panel for Breast Cancer and a member of the Breast Cancer Risk Reduction Panel. "The success that we have had is a result of the team effort from dedicated NCCN staff and panel members representing all of the disciplines that care for breast cancer patients."
Gradishar has served as Chair of Lurie Cancer Center's Lynn Sage Breast Cancer Symposium, an internationally recognized four-day meeting for the practicing clinician, since its inception in 1998. His research focuses on the development of adjuvant therapies and novel therapeutics for the treatment of breast cancer.
"Bill always puts patients at the forefront," said NCCN Chief Executive Officer, Robert W. Carlson, MD. "Management for breast cancer is very complex; these guidelines are the most widely - used NCCN Guidelines worldwide and are referenced by health care providers hundreds of thousands of times every year. Under Bill's leadership, the guidelines have expanded and become more nuanced. He is respectful of everyone's contributions and always provides great feedback."