Sharing Her Experience to Educate Others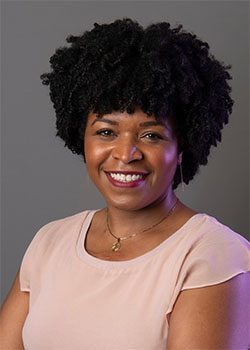 For cancer survivors like Kanesha Broadwater, BSN, RN, OCN, it's important to continue receiving necessary cancer care—even during a pandemic. 
Having worked as an oncology nurse for nearly two decades, Kanesha recognized signs pointing to breast cancer when she noticed a rash on her breast in 2017. After a mammogram and a follow-up biopsy, her fears became reality. "It was Memorial Day weekend when I got the call that it was in fact breast cancer – stage three infiltrating carcinoma," she recalled.
Supported by her colleagues in Radiation Oncology at the Lurie Cancer Center at Northwestern Memorial Hospital, she began treatment immediately, receiving chemotherapy, surgery, and radiation. Kanesha made it her mission to stay informed and engaged. "One thing that got me through this was completing the to-do list. Working towards each next step gave me a sense of control," she said. "My physician tells patients, 'You are now the project manager of your care.' So, I got busy checking off those boxes and putting one foot in front of the other."
When she finished her last round of treatment, Kanesha was determined to stay organized. She made sure to keep up with her screenings and routine cancer care, including a follow-up mammogram – all while COVID-19 cases were rising in Chicago. "I knew if we could find ways to treat our patients during the pandemic, then I needed to find a way to continue my own care," she said. "I couldn't care for others if I wasn't caring for myself."
As one of the "Faces of Cancer" being honored this year during the Cancer Survivors' Celebration Walk & 5K, Kanesha is sharing her experience to educate others about the importance of being vigilant about their health. Last year, as part Pfizer's Get It Done initiative, she encouraged cancer survivors to talk to their doctor about continuing routine cancer screenings and follow-up appointments during the pandemic. "I can tell when a patient is struggling to take the next step and that is when I tell them about my own experience, to show them that they have the strength to do this," Kanesha said. "Because I did, and I am here on the other side."
Register to join us in Grant Park on Sunday, June 5 at the 29th Annual Cancer Survivors' Celebration Walk & 5K, and look for Kanesha's banner along the lakefront path!