Celebrating Milestones as a Family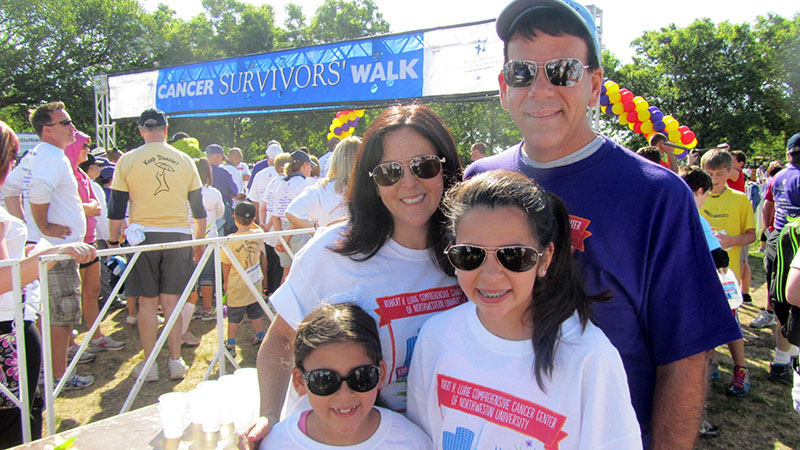 After he was diagnosed with kidney cancer at the age of 34, Jon Resnick and his wife, Amy, signed up for their first Cancer Survivors' Celebration Walk & 5K. Together with daughters Lindsey and Jordyn, they haven't missed a year supporting Jon and celebrating as a family since 2003! Lindsey and Jordyn, who first joined our event in strollers, now travel from wherever they are. "It's a priority," says Amy. "We have to be here every year."
In 2017 Jon began to experience seemingly unconnected symptoms, but scans revealed that the cancer had metastasized to his brain and Jon returned to Lurie Cancer Center at Northwestern Memorial Hospital. His neurosurgeon successfully removed the tumor, but the good news was accompanied by a new set of challenges, and Jon spent the next two months working intensively with the Cancer Rehabilitation Program at Shirley Ryan AbilityLab, learning to walk again.
Jon's oncologist at Lurie Cancer Center introduced a new targeted therapy to help lower the risk of recurrence. Five years later, he continues to respond well, and is receiving his cancer care closer to home, at Northwestern Medicine Lake Forest Hospital.
Although he can walk short distances with a brace and cane, the Cancer Survivors' Walk is no longer an easy stroll. "This did not stop Jon or us," says Amy. "We still come back and walk as far as he can, trying to go a little farther each year.
Jon will be honored as one of the "Faces of Cancer" at this year's event, and Amy has big plans. "We look forward to this event in June as an important milestone for our family. My husband is a survivor!"

Join us on Sunday, June 5 (National Cancer Survivors Day). Register now for the 29th Annual Cancer Survivors' Celebration Walk & 5K and look for Jon's banner along the lakefront path!