Get to Know Kehinde Adekola, MD, MS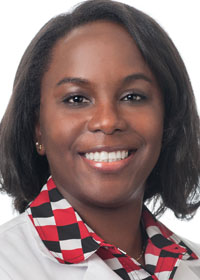 "I love seeing new places. I enjoy spending time with family, especially my sons, singing, dancing, and listening to music."
Get to know Lurie Cancer Center member, Kehinde Adekola, MD, MS. Dr. Adekola, associate professor in the Division of Hematology and Oncology and co-chair of the Diversity and Cultural Affairs Council (DCAC) of the Department of Medicine at Northwestern University Feinberg School of Medicine, was featured in the latest issue of Northwestern Medicine's "Diversity, Equity & Inclusion Quarterly."
What does diversity, equity, and inclusion mean to you?
A safe space for individuals from diverse backgrounds to flourish and prosper, accessibility and a seat at the table. And maybe, just maybe, things will be made a little easier for individuals who have historically been underrepresented in the next generation and beyond.
Tell us about your role at Northwestern.
I am a hematologist-oncologist, with a focus on hematopoietic stem cell transplant. I look after patients with benign hematologic and malignant diseases who need a stem cell transplant. I serve as the medical director for the inpatient stem cell transplant unit in the Lurie Cancer Center, and the co-chair for DCAC, which has been a great learning experience for me.
What is your proudest professional accomplishment?
Difficult to specify one, but I think one of the tops, was when I received the Buffett Institute of Global Studies Global Partnership Grant and, prior to the pandemic, was able to work collaboratively with faculty in Nigeria to organize Hematology conferences 2 years in a row, that were very well received, attended by hematologists across Nigeria, and per report impactful. The grant also funded fellows from the partner institutions in Nigeria to do an external rotation at Northwestern for a month.