Sofia Garcia Named Director of the Cancer Survivorship Institute of the Lurie Cancer Center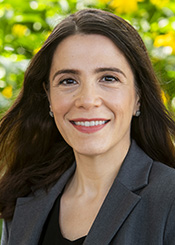 We are pleased to announce that Sofia Garcia, PhD, has been named director of the Cancer Survivorship Institute of the Lurie Cancer Center, effective January 1, 2023.
The Cancer Survivorship Institute (CSI) brings clinicians and scientists together across disciplines to find and implement new and better ways to help cancer survivors address their unique medical, physical, and psychosocial challenges and needs. Established in 2013, the CSI is dedicated to advancing Lurie Cancer Center's translational research and specialized survivorship care by supporting evidence-based initiatives to improve the quality of life for people affected by cancer, across Northwestern Medicine and beyond.
Garcia, a licensed clinical psychologist, is an associate professor in the Departments of Medical Social Sciences and Psychiatry and Behavioral Sciences. She has served as director of Clinical Research in the Cancer Survivorship Institute since 2015, and made significant contributions as a clinician and investigator in Lurie Cancer Center's Cancer Control and Survivorship Research Program since joining Northwestern Medicine in 2009. 
Garcia's research is focused on developing and implementing patient-reported outcome measures and evaluating patient-centered care initiatives, including those that incorporate health information technology and are tailored to vulnerable populations. In her clinical role, she provides psychosocial treatment and evaluation through Lurie Cancer Center's Supportive Oncology Program. Garcia replaces Christine Rini, PhD, as director of the CSI.
"Dr. Garcia brings deep and broad experience in cancer survivorship to this position. Her expertise will fuel our efforts to maximize the health and well-being of our patients after cancer treatment," said Leonidas Platanias, MD, PhD, director of the Lurie Cancer Center.
"I'd like to thank Dr. Rini for her leadership of the CSI," he added. "I look forward to her continued work to reduce the burden of cancer as leader of our Cancer Control and Survivorship Program."