Erika's Story: One Mile at a Time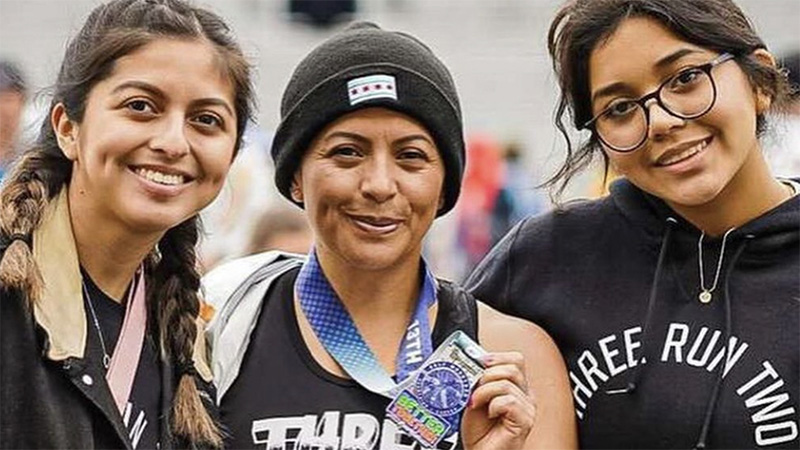 When Erika Aleman began training for her first marathon in 2015, she struggled to embrace her running coach's mantra: "Take it one mile at a time." Last year, as she trained for the 2022 Chicago Marathon through 16 rounds of chemotherapy for triple-negative breast cancer and underwent a mastectomy just five days after the race, she turned to that mantra again.
"When I was diagnosed, I felt like I lost control of my life," said Erika. She sought treatment at Lurie Cancer Center at Northwestern Medicine, where her oncologist Regina Stein, MD, and breast surgeon Swati Kulkarni, MD, supported her determination to keep running. "I always tell my patients, as much as you can, do the things you enjoy doing, do the things you have always done," said Dr. Kulkarni. "Don't stop doing things just because you're undergoing treatment. It'll help you get through it. For Erika, that was running."  
Erika says she relied on her faith, her family and her running to carry her through treatment, especially her two daughters. "I started running to prove to my daughters that you can accomplish anything you put your mind to. I told myself I would survive this for them. I am strong for my daughters, so they don't have to worry about this."  
Both Dr. Stein and Dr. Kulkarni were excited to be at the marathon, cheering on the patient they call an inspiration. "We can often think we're running away from something, but Erika was running toward something," said Dr. Stein. "She was running towards her cure, towards her life, towards her family."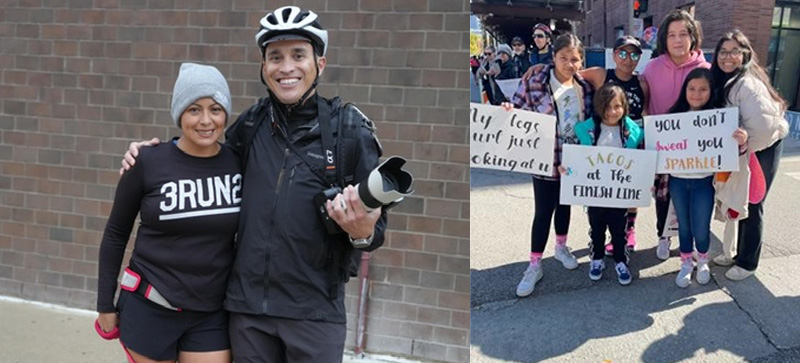 Erika's 13th marathon was her slowest, but also the most important, she said. "Life will punch you in the gut, but it doesn't mean you should stop breathing. You don't get to pick and choose what happens to you, but you get to choose how to respond. I chose life, I chose to fight, I chose to embrace my reality and to keep going forward with my head held high."
Six days following her surgery, Erika got the phone call she had been waiting for since her cancer diagnosis: "Dr. Stein called me and told me I'm cancer-free. What's better than that? We need to celebrate life. I'm a lucky one."
On Sunday, June 4, Erika is looking forward to running the chip-timed 5K at our 30th Annual Cancer Survivors' Celebration Walk & 5K. Join us in cheering her on!