Serritella to Receive Young Investigator Award from ASCO's Conquer Cancer Foundation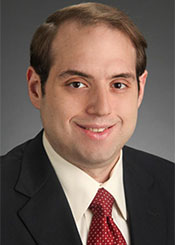 Lurie Cancer Center is pleased to announce that Anthony V. Serritella, MD, will receive a Young Investigator Award from the American Society of Clinical Oncology's (ASCO) Conquer Cancer Foundation during the 2023 ASCO Annual Meeting in Chicago, June 2-6.
The Young Investigator Award (YIA) provides funding for promising investigators to encourage and promote quality research in clinical oncology under the guidance of a scientific mentor. Dr. Serritella, a second-year fellow in the Northwestern University Feinberg School of Medicine Hematology & Oncology Fellowship Program, will focus on a promising immunotherapy clinical trial that aims to super-charge the effects of immunotherapy in men with advanced prostate cancer through modulation of the prostate cancer tumor microenvironment. 
"Immunotherapy has fundamentally improved the lives of countless cancer patients with other aggressive cancers," said Serritella. "We hope that with this novel approach we can start to bring the life-changing benefits of immunotherapy to our patients with prostate cancer, too."
Dr. Serritella's award is under the mentorship of David VanderWeele, MD, PhD, (primary mentor and principal investigator) associate professor in the Division of Hematology & Oncology and director of the Lurie Cancer Center OncoSET Precision Oncology Program, Maha Hussain, MD, the Genevieve E. Teuton Professor in the Division of Hematology & Oncology and deputy director of the Lurie Cancer Center, and Jennifer Wu, PhD, professor of Urology and Microbiology-Immunology.
"This award is quite an honor," said VanderWeele. "It is great recognition for the hard work that Dr. Serritella has already put into this project and is planning for the future, hoping to translate new discoveries from Dr. Wu's lab into clinical benefit for our patients."
Read more about the awards from Conquer Cancer to be presented in conjunction with the 2023 ASCO Annual Meeting.