Mario Shields Receives Inaugural Lurie Cancer Center Diversity Scholars Award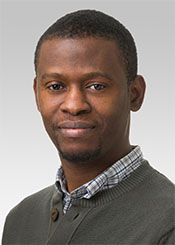 The Robert H. Lurie Comprehensive Cancer Center of Northwestern University is pleased to announce that Mario Shields, PhD, a research assistant professor of Medicine in the Division of Hematology and Oncology, has received the first Diversity Scholars Award, established to actively support the growth and success of high achieving, academically ambitious postdoctoral fellows and non-tenure track faculty who are underrepresented in medicine.
Funded by the Lurie Cancer Center Diversity Scholars Program, the new initiative has committed to providing Dr. Shields with $75,000 support per year for three consecutive years, along with individualized mentorship to further his research aimed at understanding the mechanisms of pancreatic cancer development and progression. The current focus of Dr. Shields' research is the role of G-proteins in pancreatitis and pancreatic cancer.  
Under the leadership of Sarki A. Abdulkadir, MD, PhD, Associate Director of Diversity, Equity and Inclusion, the Lurie Cancer Center Diversity Scholars Program aims to prepare Scholars to hold leadership positions in their chosen fields by providingfinancial support and uniquely tailored mentorship. Applications for the Program are currently open on a rolling basis.
If you are interested in applying, please click here to view the application on the Lurie Cancer Center website. If you would like to recommend a potential Scholar, or have questions about the Diversity Scholars Program or application, please reach out to Lurie Cancer Center's Manager of Diversity, Equity and Inclusion, Amber Townsend, at amber.townsend@northwestern.edu.