STAR Program for Adult Survivors of Childhood Cancer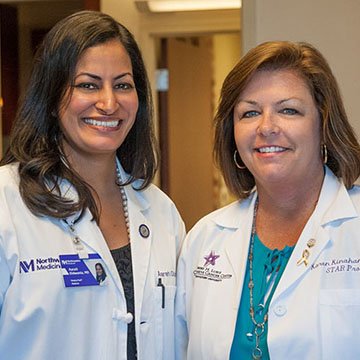 Treatment is just part of the journey for adult survivors of childhood cancer. Learning to protect their health and embrace survivorship is a life-long job.
The STAR Program (Survivors Taking Action & Responsibility) was established at the Robert H. Lurie Comprehensive Cancer Center of Northwestern University to assist young adults who were diagnosed before age 21 with the transition to long-term follow-up care.
Our team includes a nurse practitioner with expertise in the late effects of childhood cancer, a physician with decades of experience in cancer survivorship, and experts focused on the psychological and social challenges that can occur months, or even years after treatment end. The team works closely with medical specialists to provide seamless care and services, including:
Annual physical exam and summary of treatment history. (Patients may be seen more frequently when indicated.)
Personalized Survivorship Care Plan, risk assessment, and guidance on screening and surveillance.
Education to help survivors understand potential late effects and make informed decisions about their health.
Support for survivors managing challenges related to school, employment, insurance, relationships and fertility after cancer, as well as emotional distress and depression.
Communication with the primary care physician.
Opportunities to meet and network with other young adult cancer survivors.
As part of an NCI-designated Comprehensive Cancer Center, our patients have access to state-of-the-art cancer care and innovative clinical trials, often before they are available anywhere else.
To learn more about the STAR Program, please call 312-695-0990.
Watch the "Get Empowered" video education series to learn about childhood cancer and its impact on adult survivors.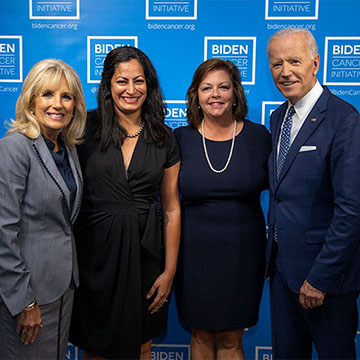 STAR Program Receives FIERCE Award for Survivorship from Biden Cancer Initiative
In September 2018, the STAR Program received the inaugural FIERCE Award for Survivorship from the Biden Cancer Initiative, recognizing and celebrating the program's "transformative impact on the lives of cancer patients."