2017 Chung Lee Lectureship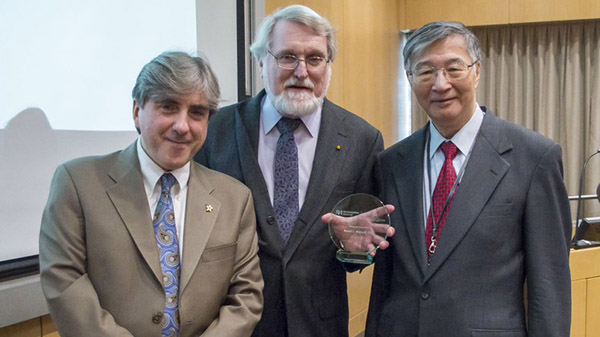 Leonidas Platanias, Robert Matusik and Chung Lee at the annual lecture honoring Lee's contributions to prostate cancer research.
The Lurie Cancer Center hosted the annual Chung Lee Lectureship on Oct. 5, paying tribute to Chung Lee, PhD, professor emeritus in the Department of Urology at Northwestern University Feinberg School of Medicine. The seminar's featured speaker was Robert Matusik, PhD, William L. Bray Professor of Urologic Surgery, professor and director of urologic surgery research at Vanderbilt-Ingram Cancer Center.
Prostate cancer starts as an androgen dependent disease that progresses to an androgen independent cancer. Matusik's presentation, titled "Androgen Receptor Regulation of Prostatic Disease," described research in his laboratory to identify the key genes involved in tumor progression and develop new targets for therapeutic intervention.
"Chung Lee has made a positive, lasting impact on Lurie Cancer Center's prostate cancer research program," said Leonidas Platanias, MD, PhD, director of the Lurie Cancer Center. "I hope that this lectureship will inspire new progress."