NCCN Publishes First-Ever U.S. Guidelines for Rare Cancers Associated with Pregnancy
John Lurain, MD, helps develop guidelines for treatment of people with gestational trophoblastic neoplasia.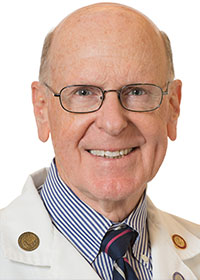 The National Comprehensive Cancer Network (NCCN) has released new treatment guidelines for a group of rare cancers that impact women during pregnancy. Gestational trophoblastic neoplasia (GTN), also known as gestational trophoblastic disease (GTD), can occur when tumors develop in the cells that would normally form the placenta during pregnancy. It happens in approximately one out of every 1,000 pregnancies in the United States, though it is more common in many Asian and African countries. Due to the rare nature of this condition, and the small number of specialists worldwide, providers often are not aware of how to provide the best care for people with GTN.
Lurie Cancer Center's John R. Lurain, MD, a gynecologic oncologist at the Maggie Daley Center for Women's Cancer Care in Prentice Women's Hospital, is an expert in the treatment of patients with GTN and a member of the NCCN Clinical Practice Guidelines in Oncology Committee for GTN. His research is focused on the clinical factors associated with the prognosis and treatment of gestational trophoblastic diseases, as well as uterine and ovarian cancers. Dr. Lurain is the Marcia Stenn Professor of Gynecologic Oncology at Northwestern University Feinberg School of Medicine and Director of Northwestern Medicine's John J. Brewer Trophoblastic Disease Center.
"If someone with a rare type of cancer doesn't live near one of the world's experts on that disease, it doesn't mean their treatment path can't be based on that expertise," said Robert W. Carlson, MD, Chief Executive Officer, NCCN. "NCCN Guidelines provide care recommendations for 97 percent of all cancer patients, plus numerous additional recommendations covering screening, prevention, and supportive care. We have plans to add several more new guidelines in the next year, to build out our library of NCCN Harmonized Guidelines for regions with different resource levels, and to publish more translations for non-English speaking clinicians. We know that people with cancer all over the world are relying on NCCN Guidelines to make sure they get the best possible care for their cancer."
The Robert H. Lurie Comprehensive Cancer Center of Northwestern University is a founding member of the NCCN, an alliance of 27 of the world's leading cancer centers devoted to defining and advancing high-quality, high-value cancer care. 
The NCCN Guidelines for GTN bring the total number of NCCN Guidelines to 72. They are available free-of-charge online at NCCN.org or via the Virtual Library of NCCN Guidelines mobile app for smartphones and tablets. NCCN Guidelines are the most frequently-updated medical guidelines in the world, with new versions released at least once a year, and more often as needed. These evidence and expert consensus-based guidelines are downloaded millions of times a year by oncologists and other clinicians worldwide.