Prostate Cancer Therapy Improves Outcomes for Patients with Castrate-Resistant Prostate Cancer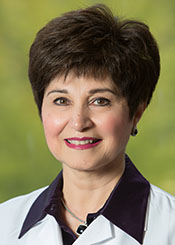 Maha Hussain, MD
Patients with non-metastatic castration-resistant prostate cancer (CRPC) who were treated with enzalutamide plus androgen deprivation therapy (ADT) had significantly improved metastasis-free survival compared with those treated with ADT only according to final results from a multinational, randomized Phase III clinical trial. The results show that the use enzalutamide and ADT reduced the risk of developing metastases or death by 71 percent compared to ADT alone. The data will be presented at the 2018 Genitourinary Cancers Symposium in San Francisco, February 8-10.
"In patients with non-metastatic CRPC, there is a high unmet need to delay development of metastases and the progression to advanced prostate cancer. There are currently no approved systemic therapies for patients with non-metastatic CRPC in the U.S," said Maha Hussain, MD, Deputy Director of the Robert H. Lurie Comprehensive Cancer Center of Northwestern University and the Genevieve E. Teuton Professor of Medicine at the Feinberg School of Medicine, who will present the data. "In the PROSPER trial, treatment with enzalutamide plus ADT delayed the development of metastases compared to standard of care ADT alone and, if approved, may provide men with non-metastatic CRPC an important new treatment option."
Prostate cancer is the second leading cause of cancer death among American men. Castration-resistant prostate cancer (CRPC) refers to the subset of men whose prostate cancer progresses despite hormone therapy.