Oncology Nurses Act Swiftly to Aid Allergic Reaction on Metra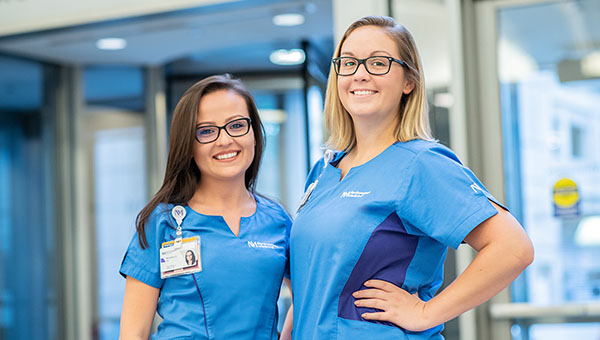 Lurie Cancer Center oncology nurses Natalia Ogara, RN, and Kathleen Creighton, RN, rose to the occasion when their commute to Northwestern Memorial Hospital took an unexpected turn.
Ogara and Creighton were on a Metra train headed to Ogilvie Transportation Center when the conductor ran into their car asking, "Where are my nurses?" They immediately followed the concerned conductor to find a passenger who had been stung by a bee was experiencing an allergic reaction.
"We asked the conductor to make an announcement to see if anyone on the train had an EpiPen," says Creighton. As the two nurses provided emotional support, another passenger approached offering an antihistamine that quickly provided some relief. An ambulance met the train at the Clybourn station to take the passenger for additional treatment.
"The man was very appreciative," Ogara says. "The conductor was even more appreciative of our quick and calm response, and took our names to call the hospital to express his thanks."After the incident on the train, knowing that a bee sting can quickly become life-threatening to some individuals, Ogara put together a first aid kit to carry with her at all times. "I bought some basics like Band-Aids, Benadryl, a CPR mask and aspirin to have on hand just in case," she explains.
While the setting was different, the nurses delivered care the same way they do at Northwestern Medicine. Both say they love taking care of people every day, and that no matter the situation or where they are, the patient's needs always come first.