Maha Hussain, MD, on Challenges and Highlights of Advancing GU Cancer Research and Care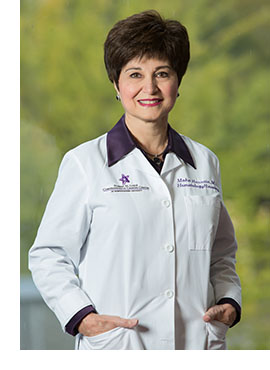 Maha Hussain, MD, deputy director of the Lurie Cancer Center and medical director of our Genitourinary Oncology Program, is an internationally renowned clinical investigator and expert in genitourinary oncology. She was recognized by OncLive as a Giant of Cancer Care in Genitourinary Cancers for her landmark achievements within the global field of oncology. 
Throughout her career, Hussain, the Genevieve E. Teuton Professor of Medicine, has focused on the development of novel therapeutics integrating scientific advances into clinical trials in prostate and bladder cancer, including her contributions to research that led to impacting the standards of care in advanced prostate cancer starting with work that contributed to the FDA approval of docetaxel for the treatment of men with advanced prostate cancer.
She reflects on the path that led her to study GU cancers, her role in pivotal research, intriguing strategies in the pipeline and the challenges she's overcome in this new "OncLive On Air" podcast.