Simon Named 2019 Presidential Leadership Scholar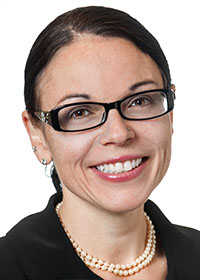 The Presidential Leadership Scholars (PLS) program announced that Melissa Simon, MD, MPH, co-leader of the Cancer Control and Survivorship Program at the Lurie Cancer Center, was selected as one of the 60 Scholars who will form the program's fifth annual class. PLS serves as a catalyst for a diverse network of established leaders brought together to collaborate and make a difference in the world as they learn about leadership through the lens of the presidential experiences of George W. Bush, Bill Clinton, George H.W. Bush, and Lyndon B. Johnson.
Scholars were selected based on their leadership growth potential and their personal leadership projects aimed at improving civic engagement or social good by addressing a problem or need in their community, the country, or the world. The program kicks off on February 5 in Washington, DC.
Simon is also the George H. Gardner Professor of Clinical Gynecology, vice chair for clinical research in the Department of Obstetrics and Gynecology, and director of the new Center for Health Equity Transformation. Over the next several months she will travel with the Scholars to each participating presidential center to learn from former presidents, key former administration officials, business and civic leaders, and leading academics. They will study and put into practice varying approaches to leadership and exchange ideas to help strengthen their impact in their communities.