Celebrating Support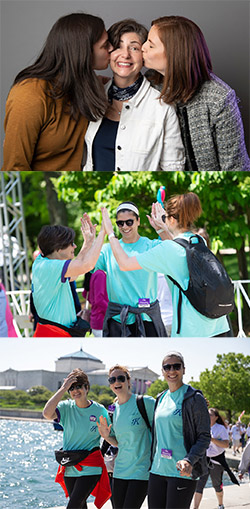 The support of her family helped Cyndee Kolosky move forward after treatment for tonsil cancer. And they're still going strong.
Married for 31 years with two daughters, when Cyndee's voice became softer and raspy in 2016, she assumed it was because most of her time at work was spent talking on the phone. But when she began losing her hair and had difficulty swallowing, she knew something was wrong.
Cyndee turned to Sandeep Samant, MD, director of the Northwestern Medicine Head and Neck Program, who diagnosed her tonsil cancer. Surgery would have involved removing her voice box, something they both wanted to avoid. Instead, her multidisciplinary team at the Lurie  Cancer Center recommended simultaneous radiation and chemotherapy.
The intensive treatment plan was effective, but took a toll on Cyndee, physically and emotionally. When she told her husband and daughters, "I just don't feel like I want to go out," their response was unanimous. "Well, we need to change that right now!" At first Cyndee resisted their invitations to take a walk in the park after work, or a lunchtime stroll through the neighborhood. Some days they'd "basically, just drag me around the block because I was so weak, but I realized they were right."
"It's very isolating when you lose the ability to communicate," she recalls. "And that's when the work starts." Cyndee began rehabilitation at Northwestern Medicine Cancer Center Warrenville when swelling from post-treatment head and neck lymphedema impacted her ability to swallow. Recognizing the importance of her family's support on her own recovery sparked an idea. Cyndee and her occupational therapist, Jamie Olp Stoker, started a support group to share information and encouragement with others affected by head, neck and esophageal cancers.
On Mother's Day last year, Cyndee's daughters surprised her by registering as a team for the Cancer Survivors' Celebration Walk & 5K, a shared experience that brought them even closer. Because of the COVID-19 pandemic, the family won't be walking side by side on Sunday, June 7, but that won't stop them from celebrating together! "Our new normal is FaceTime and phone calls," says Cyndee. "What would we do without technology?"
Register now for our Virtual Cancer Survivors' Celebration Walk & 5K and share the celebration with Cyndee and other cancer survivors around the world on National Cancer Survivors Day.