Thank You for Celebrating with Us!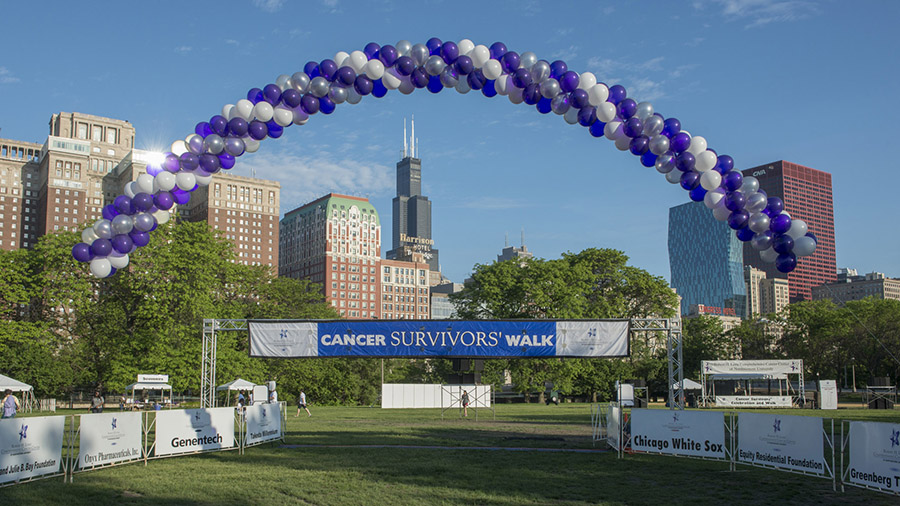 On Sunday, June 6, 2021, our 28th Annual Cancer Survivors' Celebration & Walk brought us together, virtually, to celebrate milestones, advance life-changing research, and honor those who have faced or are facing cancer.
Learn about the 2022 event here!
Ann Lurie and Dr. Leon Platanias, director of the Lurie Cancer Center, launched our Virtual Program with a live celebration via Zoom, powered by the music and energy of Lou Loiben from Personalities Inc.
No matter what time they chose to join us online, participants found everything they needed to make it a memorable occasion, including:
Our virtual Dedication Wall, to connect us through photos and messages of love and support
Our Faces of Cancer, bringing us hope and inspiration on National Cancer Survivors Day
Although we missed gathering in person, it was exciting to share the experience with more people in more places! Thanks to the commitment of more than 1,100 participants and 88 teams in 29 states, we were able to honor cancer survivors, celebrate milestones and raise over $290,000 to advance lifesaving research and treatment.

We are grateful for the sponsors, donors and fundraising teams who fuel our efforts. On behalf Lurie Cancer Center's patients and families, thank you for making a difference!   
Special thanks to our top three individual fundraisers
Brad Parkins, Eleni Bousis and Dianne Risch
And our top three fundraising teams
Malnati Brain Tumor Institute of the Lurie Cancer Center, Hippocratic Cancer Research Foundation and Team Breyfogle
Thank you to our Sponsors
A-TEC Ambulance
All of Us Research Program at Northwestern Medicine
Abbvie
AccessHope
Caris Life Sciences
Chicago White Sox
Equity Residential Foundation
Janssen Biotech
Northwestern University Center of Cancer Nanotechnology Excellence
The Sara & Scott Fisher Family
Seagen
Servier Pharmaceuticals 
---
You can still donate here through June 30 to help our physicians and scientists
translate discoveries into cutting-edge treatments and better outcomes for our patients.
---
We hope to see you, in person, at
the 29th Annual Cancer Survivors' Celebration Walk & 5K!